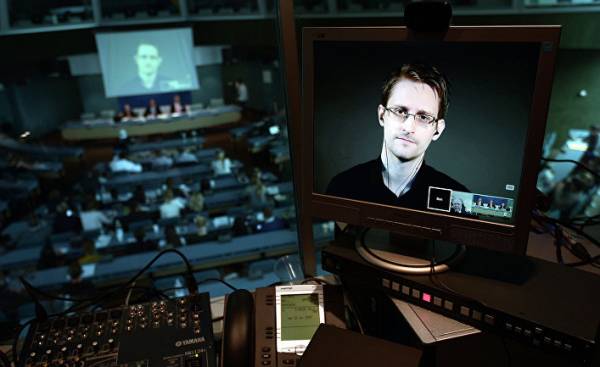 Category NRK "Brennpunkt-dokumentar: Snowden plan B" together with the Norwegian branch of the international organization for the protection of freedom of expression PEN, sent to Moscow.
In a hotel room in the Russian capital the Chairman of the Board William Nygard (William Nygaard) and General Secretary Hege newt Nuri (Hege Newth Nouri) handed to the person in exile prize Osickova for the year 2016.
The meeting in Moscow was organized with the help of encrypted messages and contacts in several countries.
After presenting the prize to Edward Snowden (Edward Snowden) gave a lengthy interview to NRK. He answered questions about the prize, role of informants, private security of life in Russia, future prospects and love.
For trump followed
In the interview Snowden says the accusations that the US President Donald trump (Donald Trump) made this year. Twitter trump claimed that he listened to the Obama administration (Obama) just before the elections, without confirming their accusations or not to mention where he got this information.
"Awful! Just found out that Obama was tapping my phone in trump Tower just before victory. Nothing discovered. This is McCarthyism!" — he wrote in Twitter in one of the six messages.
"The truth is that he was really under surveillance. But this applies to everyone else in the United States. It is not an exception. All communication in large quantities are harvested in the systems of mass surveillance," Snowden told NRK.
"He is outraged, because there are indications that the intelligence service had monitored the communications of some of his relations. Yet all such actions are in compliance with the law. Whether trump is selected as the object of observation? If they tapped his phone? I don't think, and there is no evidence. But if the international razvedochnaya collects and stores information about what we do online and what conduct telephone conversations… Regardless of whether they are viewing them, they still spy on you. In this case, Yes, they are spying on all of us," says Snowden.
Warmly speaks about the beloved
In an interview, Edward Snowden spoke about his beloved woman, with whom he lives in Moscow.
"It's incredible. People don't understand how she dared. There was a time when it would be no exaggeration to say that I was the most wanted man in the world. It was a man hunt, which has no precedents in the history of American government. I couldn't tell her about his plans, because the FBI could charge her assistance. So she learned about it the same way as everyone else — television.
She had every reason to be angry with me because of the serious consequences it could have for her life. But instead she said that one of the reasons why she loved me was because I fight for what I believe in. And she decided to fight to be with me. I can never thank her for it."
Comments
comments