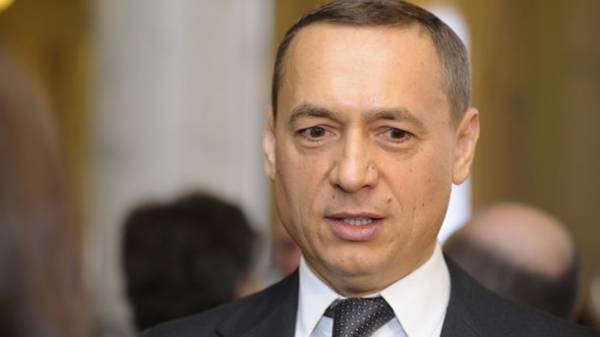 In criminal proceedings for causing losses to the state enterprise "Eastern mining and processing plant" (VostGOK) there are 5 suspects, and the former people's Deputy Nikolay Martynenko is suspected as the organizer. This was announced by the Prosecutor of the Specialized anti-corruption Prosecutor's office (SAP) Roman Tymkiv.
"Now the case is already 5 suspects, which in the procedure established by the Criminal procedural code, it is declared suspicion or the measures taken for this, and Mr. Martynenko play the role of organizer, that is, the person who created, directed the actions of other persons for the Commission of this criminal offense", – told Shimkiv.
Answering the journalists ' questions, the Prosecutor noted that while early to speak about the direction of the indictment in the "case." the court, since criminal proceedings is particularly difficult, and you need to complete a large number of investigative actions.
"In addition, we expect how the defense will build their tactics, what evidence they will provide for disproof in the suspicion of the facts," said Shymkiv.
According to the Prosecutor, some of the suspects are outside of Ukraine.
"Two suspects outside of Ukraine are now. It bogdanets (Deputy Director General of VostGOK for economy and development of production Vladimir bogdanets – Ed.) he personally suspected not awarded, but we expect his arrival. I think it will be soon, as he told us," explained Shymkiv.
"Other suspects are also outside Ukraine. One of them is permanently residing outside of Ukraine since November of 2016, the other from March 29 this year", – said the Prosecutor.
The Prosecutor said that these persons are suspected of committing a criminal offence in collusion.
He also noted that investigators have evidence that Martynenko was controlled by the Austrian company Steuermann.
"We have provided relevant evidence that the court of first instance properly assessed… (Proof – Ed.) clearly indicate that he is the direct supervisor of the Austrian enterprise", – said the Prosecutor.
Simkiv also added that "in corruption schemes actively used such concept as nominee Directors, nominee shareholders, which are actually used here."
We will remind, on April 20, was detained by representatives of the NAB, former MP from the "popular front" Mykola Martynenko.
The head of the Special anti-corruption Prosecutor Nazar Golodnitsky reported that the ex-MP accused of embezzlement of funds of the SE "Eastern mining and processing plant" in the amount of 17.28 million dollars. Specialized anti-corruption Prosecutor's office during trial regarding Martynenko insisted on his arrest with the possibility of bail of 300 million hryvnia.
The detainee stated that the charges against him was fabricated at the direction of the Director of NABU Artem Sytnik for PR purposes and to divert attention from the failures of the Bureau.
On 22 April , the court decided not to arrest Martynenko, releasing him on bail.
Comments
comments