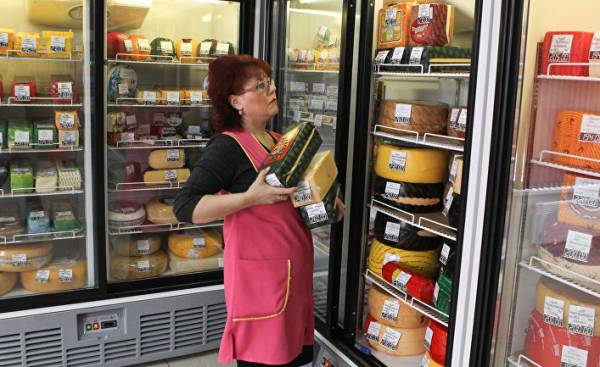 A novelty in the economic diplomacy of the Czech Republic are the so-called agrarian diplomats, who started to work in some embassies. In February 2016 at the Czech Embassy in Moscow began to work an agrarian diplomat Nikola hruskova.
— Ihned.cz: Since 90-ies the export from the Czech Republic to Russia have evolved to be nonlinear. That basically had influenced him?

— Nikola hruskova: Since 1993, exports to Russia increased in a decade has increased nine times. However, the Russian economy has witnessed several important events which had a negative impact on our exports. First, it is the currency crisis of 1998, and secondly, the global crisis of 2009. In fact, and in another case of Czech exports to Russia declined. Together with the further stabilization of the Russian economy re-stabilized and Czech exports to Russia. Before the imposition of sanctions in 2014 has achieved the best ever results: then the volume of Czech exports was estimated 115 billion crowns per year. In Russia went about four percent of the total Czech exports, and at the time Russia was our most important market outside the European Union.
However, in 2014, imposed sanctions and established low oil prices, devaluation of the ruble, which again had a negative impact on Czech exports to Russia. Now its share in the total volume reaches only about one and a half percent. I say "only", however, we are talking about the amount of 70-80 billion per year. The mentioned crises have affected all sectors without exception. This year the expected growth of the Russian economy, which in turn can contribute to the growth of Czech exports.
— As sanctions imposed in 2014 in connection with the Russian-Ukrainian crisis has affected exporters of Czech agricultural and food products?
— Russian retaliatory sanctions, which relate to the food industry and agriculture, has had both direct and above all indirect effects. Direct impact on several Czech firms that exported to Russia goods such as, for example, dairy and meat products. Now these products are under sanctions, and export it to Russia is impossible. These kinds of products practically disappeared from the Czech export statistics in Russia. Result a private example. In 2013, the Czech company exported to Russia of dairy products amounting to more than CZK 200 million. At the time this segment had growth potential, however, after the imposition of sanctions, exports were reduced to zero. And so we can one by one to transfer certain types of goods and industries. The end result would be the amount that is compared to other European countries turned out to be not so great. The share of direct agricultural exports to Russia in total export volume makes up only a few percent, while other European countries share reached tens of percent.
In my opinion, the most serious turned out to be an indirect impact. Objectively to count up losses it is almost impossible. The ban on the export of European foods to the Russian market resulted in the oversupply on the European market, where now some types of goods too much, therefore prices are very reduced. This is most obvious in the dairy industry, where its role was played by the abolition of milk quotas. The situation needs to be considered in the overall context: to all the negative consequences of sanctions added more and the crisis of the Russian economy caused by low oil prices and the subsequent devaluation of the Russian currency. Specific amounts that are sometimes called, are only a very approximate assessment of the real consequences.
— Under the influence of the above external influences changing the balance of trade between Russia and the Czech Republic in the field of agricultural products?
— For a long time Russia is the Czech Republic's most significant market outside the EU for the export of agricultural products. Despite the ongoing sanctions and the devaluation of the ruble, agricultural exports to Russia is quite positive primarily due to the structure of our agricultural exports. The historical high agricultural exports from Czech Republic to Russia was reached in 2014 when the amount reached three billion crowns. Although from August 2014 began to operate sanctions, exports continued because continued to be implemented before contracts. In 2015, exports fell by about 20% to 2.4 billion kroons, and in 2016, agricultural exports began to grow again and reached 2.6 billion crowns. Trade balance with Russia in the long term remains positive, because Russia exports to us goods worth around half a billion CZK. A separate article — agricultural technologies and equipment for the food industry. On their exports affected by the depreciation of the ruble, but the demand for them in Russia remains, therefore, after declining 2015 last year exports began to grow again.
— After two years of decline is expected to recover somewhat, and the Russian economy will probably continue to rise. What will this mean for Czech exporters?
— I can confirm that in 2016, the forecasts predicted a moderate growth of the Russian economy. Stabilized oil prices, is relatively stable and the exchange rate of the Russian currency, so the Russian customers started to buy foreign goods. We can say that this positive trend is noticeable in all industries. However, Russia also tries to promote in all sectors of import substitution, which aims to reduce excessive reliance on imported goods. This year the Russian government will continue to provide financial support to the agricultural sector and the food industry. Support is, for example, favorable financing, subsidies for the purchase of agricultural machinery, subsidies for the construction of dairy farms and so on. Before the Czech firms offers the chance to further advance its technology and some products, because in most cases Russia can't produce them yourself.
— What do agricultural or food products have chances on the Russian market?
— For a long time in the list of our main products, exported to Russia, composed of feed, hatching eggs, beer, hops, malt, poppy seeds, nesekretnye sweets, food supplements, alcoholic and non-alcoholic drinks. None of these goods of Russian sanctions do not apply.
— And on what goods the sanctions apply?
— Apply counter-sanctions on fruits, vegetables, dairy products, beef, pork and poultry meat and meat products (except, for example, some canned), fish, salt and some certain types of products. To sanctions a major role in the Czech export played dairy products such as sour cream, cheese, cottage cheese, whey and other. As for meat products, exported some kinds of sausages, ham and so on. Now their export impossible, although the demand for them would be. However, most of our important agricultural and food products, we can still take.
— Given that in the field of Russian food is not self-sufficient, whether it opens the market for new opportunities for Czech exporters of food products and agricultural commodities?
After the introduction of retaliatory sanctions Russia seeks not only in agriculture but also in food industry to raise the level of self-sufficiency and to substitute imported goods for domestic. In some areas it is possible. Russia can provide itself with pork and poultry, potatoes, grain and other basic foodstuffs. However, there are still areas where Russian production is unable to cope. It is, for example, milk, fish, beef and vegetables. The Russian government supports import substitution subsidies in agriculture, so this sector is developing very actively. Here are opportunities and a Czech companies, primarily those who are building farms and supplies technology, equipment, farm animals, veterinary medicines and other related products. Regarding the food, in the Russian market have more chances those which have long been well known, for example: beer, hops, poppy, sweets, and many others. Despite the fact that Russia is a huge country, due to climatic conditions, it will never be able to grow your own.
— Does the interest in the Czech genetic material?
— Russia has problems with their own genetic material, so this area is very promising. Our suppliers can implement it. However, you will need to beat the strong European competitors — simply export a batch of doses for insemination will not be enough. For this you need to add something, as do exporters from other countries. For example, Czech exporters can come to the Russian colleagues and show your working methods, tell how to care for livestock, Pets and more. Now in Russia the great demand for the transfer of experience and training.
A similar situation exists in the field of growing plants. Russia lacks its own high quality seed and seedlings, for example, vines and potatoes. This product Russia still buys in Europe and other countries.
— Where in Russia business is done?
— Center of business is, of course, Moscow, but in Moscow nothing much will grow. Therefore, we continue to focus on support of cooperation with individual regions and send a business delegation there. This approach has its advantages, because each region has its own needs, and competition in the regions are usually not as big as in the capital, and to speak immediately with specific people.
— What regions of the Czech exporters should focus on?
The Russian Federation consists of more than 80 individual different from each other regions, however, from the point of view of agricultural cooperation makes sense to focus on those where agriculture and the food industry have a certain weight and perspective. This also applies to climatic conditions, and economy of the region and its remoteness. The most promising seem to be areas in the South of the European part of Russia, e.g., Krasnodar Krai, Rostov oblast, Voronezh oblast, Bashkortostan, Stavropol Krai. But these promising and geographically accessible regions of very strong European competitors. In the future you can navigate to some regions in the Asian part of Russia.
— What form of import in Russia in the field of food and agricultural products are most profitable?
For example, beer is sold almost by itself, because Czech beer in Russia has its own reputation. However, as I said, in some areas, for example, in the field of insemination, you need to add something. The ideal situation is when several Czech exporters melds and works together. For example, one firm builds a farm, the second delivers the technology, and the third animals, a fourth feed, the fifth can build a dairy. This could be the ideal. And some European countries already are doing just that.
A suitable partner is, first and foremost, someone who can find funding. If he can provide the project and the state guarantee, it will be step to success. With regard to the export of food, it is quite a partner, importer, distributor, you can rely on.
— Can the Russian market to get new players?
— Newcomers are always heavier in comparison with those who has already gained some experience in Russia and knows "how it works". Business in Russia is based on long contacts, friendships, good recommendations, a large amount of vodka drunk together… But that does not mean that new firms have no chance. Of course, matter what product the company offers, and how it will operate. A fundamentally important personal relationships, repeated negotiations, the desire to devote to the business a certain time, invite partners in the Czech Republic — to his company. Nobody expect that he will come once in Russia and will sign the contract.
— Do Czech companies to cope with the instability of the Russian currency?
Given that most of the transactions carried out in euros and dollars, it is best to have the Russian side a partner that has a stable income not only in Russian rubles. In recent months, the Russian ruble was relatively stable, but the risk associated with exchange rate remains significant.
What is the current situation developed with financing and insurance of exports to Russia, with the provision of specific transactions?
Czech companies have access to state financing through the Czech export Bank (ČEB) or financing through commercial banks. The same options are available in the insurance industry: you can use the services of the Export guarantee and insurance company (EGAP), or commercial insurance companies. Only from the entrepreneur depends on which version he would prefer.
In recent years cooperation has been strengthened between the Ministry of agriculture of the Czech Republic, ČEB and EGAP. And the Czech export Bank and Export guarantee and insurance company have separate specialists who only do agricultural exports and is ready to help Czech exporters. And ČEB and EGAP has participated in agricultural projects in Russia and other countries of the world.
Providing the transaction depends on its type and industry. Ideal customer, of course, the one who can Finance the transaction or to find funding, and who has already checked, for example, another Czech firm. We recommend to businessmen to insure their transactions or to demand payment for their services forward. Never hurts to care, personal supervision, and you should not rely only on your Russian partner, it is better to keep the deal under his own constant supervision.
Behind the Czech exporters its position after 2014 or continue to hold them?
— We cannot say that Czech exporters have left their positions. But some Czech company has substantially limited its activities in Russia. However, they still show interest in this market and waiting for better times. The Russian market is more than 140 million citizens, and the Czech Republic there is a good reputation and traditions. Moreover, if Czech products could enter the market of Russia, almost automatically open to them the markets of other countries of the Eurasian economic Union: Belarus, Kazakhstan, Armenia and Kyrgyzstan.
Unfortunately, I have to say that the activities of Czech companies, for example, participation in Russian exhibitions and other events, much lower than the activity of the European competitors. Despite the sanctions, on all major agricultural and food exhibitions, forums and events present dozens of companies from Italy, Germany, Hungary, France and other countries. The Czechs also will take part there sporadically. Aktiviziruyutsya in Russia and countries outside the EU, such as China, Korea, Serbia, the countries of Latin America.
I think it is important for us to constantly maintain a reputation for quality Czech food and products because in a large market like Russia, we have prospects, and sanctions will not last forever. Recently, for example, despite the inability to export dairy products on the Russian site of the dairy industry was the Czech week in which Czech companies and experts were able to present their activities.
— What projects in support of Czech exports to Russia have carried out in recent years, and what were the results?
For the last year and a half have been implemented three projects of economic diplomacy. I mean business delegations to regions of the Russian Federation. The first two missions were headed by the Deputy Minister of agriculture of the Czech Republic. The delegates visited important from the point of view of agriculture in the region: Krasnodar territory and Bashkortostan. Recently in April, I traveled to the Rostov region, where he worked as a business delegation led by Minister of agriculture Marian Jurecki. These events were attended by more than 30 Czech agricultural enterprises. This year we planned at least another two agricultural projects: the tasting of Moravian wines in Moscow and a return visit of representatives of companies from Bashkortostan in the Czech Republic.
It turned out that our trips to the regions has revived the Russian side is interested in cooperation with Czech agricultural companies. Representatives of all regions visited by the business mission, want to come to the Czech Republic and to continue the negotiations. The delegation of businessmen of the Krasnodar territory has already visited the Czech Republic last year, and a trip of businessmen from Bashkortostan we are planning for the current year. And I'm sure in the near future, we expect entrepreneurs from the Rostov region. The fact that Russian firms responding to our business, indicates their interest in cooperation.
Business delegations, we help "open doors" and establish direct contacts to Czech companies, it would be difficult to develop remotely. If delegation is headed by Minister or Deputy Minister, accompanied by Ambassador of the Czech Republic, the event takes on a completely different scale, and its value in the eyes of Russian partners is increasing.
— What do you expect from a recent trip to Rostov oblast?
— We organized a visit of the delegation headed by the Minister Jurecki in the Rostov oblast, because it is one of the most important agricultural regions of Russia. The Minister was accompanied by representatives of 15 Czech agricultural companies, which are interested in this area. We have identified several key areas in which we will take further steps. It is, first and foremost, the technologies for processing of grain, the construction of dairy farms and livestock breeding, brewing industry, waste treatment and other things. During the visit, held a Czech-Russian business forum, businesses participated in the negotiations in the B2B with Russian partners and had the opportunity to visit several enterprises.
— Active economic diplomacy of the Czech Republic in other Russian industries?
Mutual contacts were intensified. In addition to the Ministry of agriculture, has an active Ministry of industry and trade, representatives of some of the edges. In addition, several meetings were held at the highest, including the presidential level. Last year in Prague after a four-year break was held of the Czech-Russian intergovernmental Commission on economic, industrial and scientific-technical cooperation, and in the near future we plan to hold the next meeting of this Commission in Russia. However, other European countries are more active in the organization of delegations, and networking.
One of the most important steps in the framework of economic diplomacy was the establishment of agricultural diplomat. How do you assess the results of their work in an agricultural diplomat in Russia?
I'm glad of the company reacted with approval to my appointment to the post of agricultural diplomat and Russia. I think that by establishing this position, the Ministry of agriculture made a very right step. Thus, for example, in Russia, we serve our partners with a clear and tangible signal that are serious about cooperation in the field of agriculture. I was contacted by a large number of companies who want to develop cooperation with Russia.
— In the Embassy in Russia, you have been working for over a year. What has impressed you about this country?
— During studying at the University I spent six months studying in St. Petersburg and traveled to Russia. Now I have more than years are here for work, and I think that I had some time to learn about Russia.
It is a huge country, a great nation with a rich history and unique mentality, which is, however, not so far from Czech. Time and distance in Russia is a relative term. Here everything is huge, including, and contrasts. Like any country, Russia has its own pros and cons. But then the Russians don't deny, it's their ability to live a full life in every sense. 100 percent.
Comments
comments