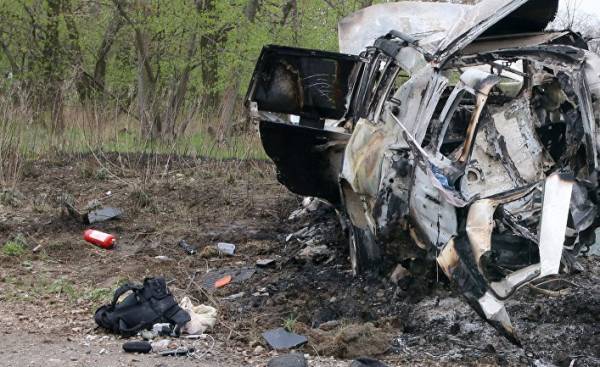 Employee of the OSCE was killed in the explosion of mines. The headers of this message again reminded of the horrors of war. The car exploded on a deserted road near the front line, as a result of your life lost man, who was only 36 years old. A U.S. citizen was accompanied by a medic as a special mission of the Organization for security and cooperation in Europe (OSCE) in Eastern Ukraine.
The tragedy shows how in the fourth year of the war remains unpredictable, and dangerous situation in Eastern Ukraine, even for OSCE staff who know that you should be careful and follow safety rules. This is the first victim of a special OSCE mission, which monitors the ceasefire in the East of Ukraine. This is another bloody Chapter of the war that has disappeared from the international media, despite the fact that it still continues. According to the UN today, her victims were 10 thousand people.
Minsk agreement are not met
Three years later after the war has still not seen its end. Every day the truce is broken hundreds, and even thousands of times. No one fulfilled item of the Minsk agreements. The peace process has completely lost its way. Kiev demands ceasefire, control over the Ukrainian-Russian border and elections in the occupied areas. Moscow, in turn, insists on special status of Donbass.
The war continues and opposing sides harden all the more. A few weeks ago, Kiev has decided to stop trading with the breakaway regions is officially — as a response to the fact that the separatists before that made the nationalization of Ukrainian enterprises in areas under their control. The latter, in turn, reacted to the blockade of the railway communication, waged by Ukrainian volunteer battalions. At the end of the week the head of the Luhansk energy Association announced that it would stop the supply of electricity in the breakaway separatist region. The government representatives promised to stop the supply of energy in Donetsk. In January, the Minister of the temporarily occupied regions Vadym Chernysh presented a plan for "reintegration of Donbass" to win the hearts and minds of the residents of the separatist regions. "They are also Ukrainians, and we are responsible for them", — said Blackie.
Says a lot about the fact that Kiev took almost three years before he was able to prepare an official document on how to consider people on the front line.
Comments
comments