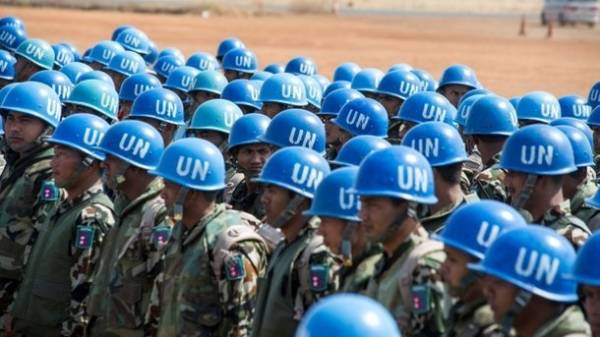 Poland is ready to support the deployment of UN peacekeepers in the Donbas and to be actively involved in the settlement of the situation in the East of Ukraine as a non-permanent member of the UN security Council from 1 January 2018.
This was during a meeting with Deputy foreign Minister of Ukraine Serhiy Kislitsa in Warsaw, said Deputy foreign Minister of Poland Bartosz Tsihotsky, according to the Polish foreign Ministry, reports "UKRINFORM".
"Poland has long engaged in negotiations regarding the settlement of the conflict in Eastern Ukraine and supported the deployment of international UN forces in the territory, which suffers from the aggression and occupation", – stated in the message the Ministry of foreign Affairs of Poland.
SEE ALSO
Poroshenko called the main task for peacekeepers in the Donbass
According to Tsihotsky, Poland is ready to actively intervene in the negotiation process regarding the normalization of the situation in the Donbas.
"Ukraine as a strategic partner for Poland can count on our participation in the process of restoring respect for international order," said Tsihotsky.
According to him, Poland as a non-permanent member of the UN security Council from 1 January 2018, and is aware of its responsibility for "the preparation of the format possible mission in Ukraine".
The Deputy head of the Ministry of foreign Affairs also drew attention to the need to ensure appropriate conditions for the work of the special OSCE monitoring mission in Eastern Ukraine and the need to increase its activity.
SEE ALSO
Peacekeepers in the Donbas: why Russia started talking about "blue helmets" in the East
In the context of bilateral cooperation, the parties expressed their readiness to hold consultations regarding the new law on education in Ukraine.
Recall, September 5, the Russian President put forward the initiative on the deployment of peacekeepers in the Donbas. However, one of its main conditions was the placement of the UN peacekeeping mission on the demarcation line.
At the same time, Ukraine's permanent representative to the UN Volodymyr Yelchenko said that the UN peacekeeping mission in the case of the introduction in the Donbass should be located on the Russian-Ukrainian border and the participation of representatives of Russia excluded.
Comments
comments