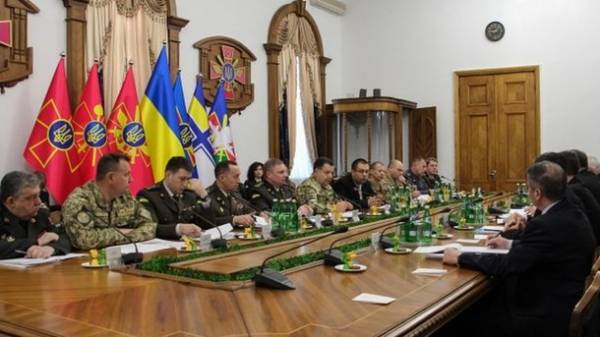 Thursday, may 11, the Minister of defence of Ukraine Stepan Poltorak met with representatives of the U.S. Congress, during which he informed the congressmen about the situation in the territory of the antiterrorist operation in the East of Ukraine and on the territory temporary occupied by Russia Crimea.
"The United States have a consistent and serious assistance to Ukraine since the beginning of our struggle for territorial integrity. With the help of American trainers in the preparation of the Ukrainian military gives results on the battlefield, saves lives and can effectively solve problems" – quoted in Thursday Stepan Poltorak, the press service of the Ukrainian defense Ministry.
Also, the defense Minister told the US congressmen about the main achievements in reforming the Armed forces of Ukraine.
"We were astonished that within a fairly short period Ukraine has grown up an army that protects the country", – said the head of the delegation Michael Makkon.
Representatives of the delegation of the U.S. Congress noted that as in the Parliament of any country, in Congress, there are controversial issues, but in Ukraine, their position is one. "Ukraine must be strong and we need to work together" – quoted the press service of the defense Ministry congressmen.
In turn, the Minister of defense of Ukraine noted that "the Ukrainians want to build a strong and prosperous democratic country, ready to defend their values with the gun in his hand and even give life, but it is important not to be alone in this confrontation, we need the support of partners."
"Having the strength of spirit and will and the help of foreign partners, we will win," he stated Poltorak.
Comments
comments