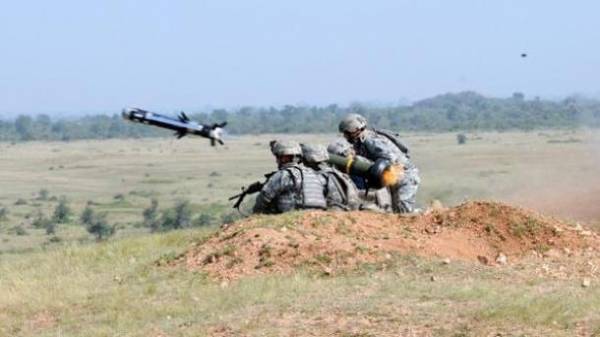 To counter Russian troops in the Donbass Ukrainian army can be armed with a new man-portable missile systems of domestic production is the notorious American Javelin, which the United States is not in a hurry to give Ukraine. This was told to the "observer" Colonel APU, the party fighting for the liberation Shirokino Victor Shidlyuh.
According to him, Ukraine has its rightful lethal weapon of a domestic production, and gave an example of his work against the Russians.
"There's a good video on the Internet, when our anti-tank complex, the first missile fell, it happens, and the second shell hit so that the Russian calculation is dust. We have a good development, they are high-precision, high-quality and have come into service. The last one is the complex "Le Corsaire", which recently adopted. And very good results it shows," said Shidlyuh.
SEE ALSO
The Ukrainian army has a new missile complex: the video is published
He believes that Ukraine should first and foremost rely on their own development, and not wait for supplies from the Americans.
"To say something about "Javelina" one thing that we saw on TV, and another thing, as it really shows itself in action. Of course, if they give us such a weapon, it will be possible to test. Still, I am advocating that we develop our own design. I like our design office with anti-tank weapons. So much of a dream of "Javelina" have and have what we have. And shoot it quite well" – summed up the military.
Earlier, a military expert Alexei Arestova estimate how much Ukraine needs from the U.S. anti-tank missile systems Javelin.
Comments
comments