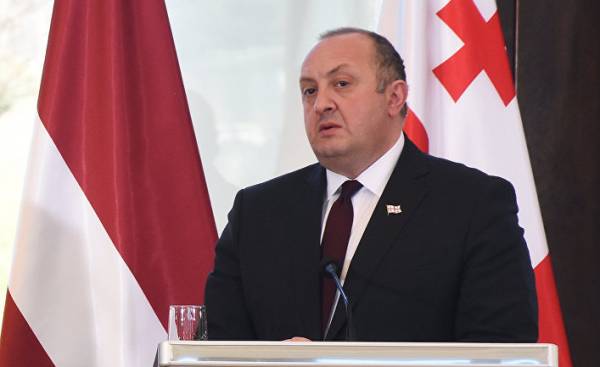 The President of Georgia Giorgi Margvelashvili is outraged by the announced visit of the Minister of foreign Affairs of Russia in Abkhazia and the opening of the Embassy of the Russian Federation and calls on the international community strongly to condemn ongoing Russian "policy of privileged interests".
In a special statement in connection with this event Giorgi Margvelashvili explained that the visits of representatives of foreign States to Georgia for the functioning of any representative offices on the territory of Georgia is possible only with the consent of the Central government of Georgia. In all other cases, such actions are a violation of both the Georgian legislation and international law, stressed the President.
According to his assessment, attempts of imitation of international relations to legalize their presence in the "occupied territories" of Georgia together with the basic principles of international law and violate the terms of the agreement on the ceasefire of 12 August 2008.
"It is extremely outrageous that the policy of strategic patience of the government of Georgia and its constructive steps to stabilize the situation in the Russian Federation meets next actions directed against the sovereignty and territorial integrity of Georgia" — stated Giorgi Margvelashvili.
He expressed his willingness to consider any questions on the diplomatic space and urges Russia to engage in constructive dialogue.
April 17, Russian foreign Ministry reported that Sergey Lavrov will visit Abkhazia on an official visit on April 18-19. It was noted that the Minister of foreign Affairs of the Russian Federation will take part in the solemn ceremony devoted to the opening of the new building complex of the "Embassy" of Russia in Abkhazia.
Comments
comments