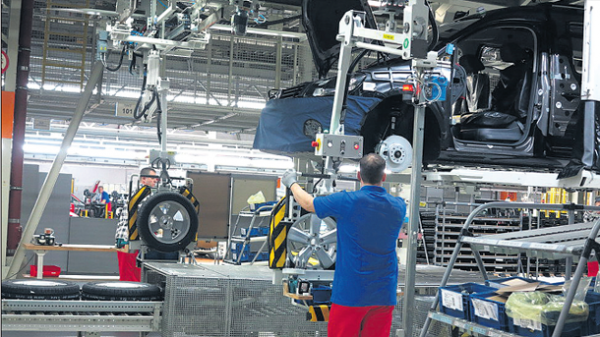 Everyone who worked abroad, gaining insights that can be useful for those who are just going to find a job outside Ukraine. My experience says Alexander Dumin.
– Why did you leave Ukraine?
In Poland he left behind a big salary. She was the most important incentive. What kind of work – it was already the second question.
– What was your path to employment abroad?
Yes, everything just happened… One day a friend gave the contact of the Agency through which he found work in Poland. I turned back and after some time chose what I like from the variants offered by the Agency.
– Where and how long have you been in Poland?
Almost five months worked at the plant for the Assembly of components for cars. More precisely – on the installation. The plant is located on the South of the country in the town of Gliwice. I had cosmicboy day, 20 minutes were given for lunch. The hardest part was the beginning when I had to learn the workstations. But the leader of the sector for the first time, put beginners on the lighter areas. When a person is absorbed, it gradually transferred to more complex operations.
– How are the poles to workers from the Ukraine?
The poles we are treated very well, always maintained. Honestly, I wasn't expecting it. After all, Ukraine had to hear about the negative attitude of poles towards Ukrainians.
– What were your living conditions?
Shelter (hostel) provided by the employer. The conditions are quite normal.
– How did you manage to earn in a month? How much is spent on the life that managed to save for the future?
In an average month net received 1700 PLN (a little more than 400 euros). Of this amount, PLN 800-900m I spent on food. Actually, it is a significant sum. My roommates in the hostel was eating 300-400 zł.
– Do any surcharges, bonuses, awards, etc. in addition to the salary?
From the above sum of income 1400 zlotys – salary 300 – prize. But it is paid continuously, for the mere fact of employment with the company. Notice that many of these as I was looking for more options and additional jobs. After all, most of the main goal – to earn more.
– Polish language knew or mastered when you left Ukraine?
Tried to learn from textbooks at home in Ukraine. But as it turned out, this is an inefficient way. Where I work, speak the local dialect. This significantly changed the structure and sound of the words. I had to learn from a local during business…
In fact, I want to advise to go with at least a minimum knowledge of the language. At least the most essential phrases to know and understand. Here is an example. When we arrived in Gliwice, before you start working, needed to pass a medical examination. For this, it turns out, had to go to the town next door. Experience life in Poland, no one from our group was not. And a language no one knew. Still we were lucky. Met an elderly security guard, who knew well Russian and kindly explained to us all the nuances.
Is there a market for Ukrainian workers in Poland, what prospects are there for a person who seeks to work in this country?
Ukrainians demand. Hardworking, want to take after school that is beneficial and the company and the employee. The good prospects in Poland – working professions – welder, bricklayer, driver, trucker, Miller, CNC operator (CNC) and forklift. These positions pay much better but they require high qualification, good experience. An employee may in several stages to test before you take.
To learn more about the jobs in Poland are:
by phone: +38(067) 3732877, +38 (032) 261 66 70
on the website: https://www.ottoworkforce.com.ua
Comments
comments