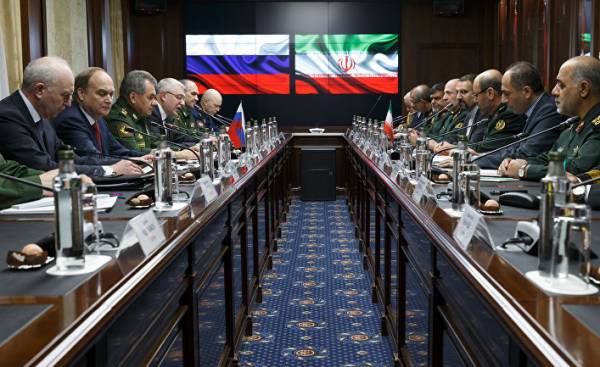 Support of Syrian President Bashar al-Assad brought together Russia with the Islamic Republic of Iran, and it is ready to conduct military operations across the Middle East.
This statement spread around the world media. "Committing aggression against Syria," said in it, the US crossed the red line. Meant caused 7 APR an American missile strike on Syrian airbase shirt in response to the use of chemical weapons in Idlib province. "From now on, we will respond with force to any aggressor or any violation of the red devil".

The Iranian military to threaten the United States on behalf of Russia
Usually, threats to fire. According to Iranian edition of "Ilam al-harbi", with the threat to the United States made on April 9 the Joint command center of the fighting in Syria. It includes Russia, Iran and militant type of education of the Lebanese movement Hezbollah supporting the Assad regime.
However, the next day the press Secretary of the President Dmitry Peskov denied the message a little-known Iranian source in Moscow of such a statement is not known. However, on 11 April, the Iranian defense Minister Hossein Dehgan, talking on the phone with his Russian counterpart Sergei Shoigu, according to "Interfax", in fact repeated the threat: "the Americans will have to pay a higher price if they will repeat (an airstrike on Syrian territory. — approx. ed.), and they should know that such actions will not remain unanswered".
It is significant that the "Interfax" quotes in this case, Iranian media, as in the official TASS announcement of the same conversation, such language is not found. This is understandable: Russia is making harsh statements against the United States and even accusing them of aggression, still follows certain diplomatic norms and the other major nuclear power, the use of weapons has not publicly threatened.
A military expedition in Syria and the hybrid war in Yemen
Quite another thing — Iran. For him, as for North Korea's bellicose rhetoric and threats to America and distant nearest neighbors is a usual thing. Only if a long and not very close ally of Russia — Communist North Korea is engaged in provocative testing of nuclear warheads and missiles as their means of delivery, but active hostilities not doing something new and now very close ally of Russia, Islamic Republic of, currently fighting at least two fronts.
First and foremost is Syria. Here Iran is acting in the open. The second is Yemen, where Tehran is, apparently, is a hybrid war, secretly supplying arms and providing strong support to Shiite rebels-Houthis. In any case, as claimed by the United States and Sunni Arab countries, a coalition which, headed by Saudi Arabia in the spring of 2015 is fighting against these armed groups.
Yemeni conflict was now somewhat in the shadows (mostly, apparently, because of the events in Syria), but about its dangers specifically for Russia, says at least the fact that in October 2016, the USS "Mason" was thrice exposed in the Red sea rocket attacks from the territory of Yemen. In Washington suspect that these attacks on the American army has against Iran. And he is now a close ally of Russia, albeit not in Yemen, and in Syria.
Support for Assad Tehran considers a vital task
Military support to the Syrian alawites led by President Bashar al-Assad, Tehran considers its vital task, because it seeks to create something similar to the "Russian world" could be called the "Shia world". During the Iran-Iraq war in the years 1980-1988 is Syria was a major ally of the Islamic Republic in the region. "Syria's support prevented the transformation of the Iraqi attack on Iran in the war all over the Arab world against Iran," he recalled in an interview with DW, Abbas Abdi, Iranian journalist and former politician-reformer.
Thus, Syria is a fundamentally important Outpost in the violent confrontation between Shiite Iran and Sunni States led by their leaders — Saudi Arabia and Turkey. This is why Kassem Soleimani says that in Syria he defends the Islamic Republic of Iran. This General (accused of terrorism, including the deaths of US citizens, and under international sanctions) commanded a special unit of the Islamic revolutionary guard Corps under the name "Quds" ("al-Kuds"), which carries out military and covert operations outside Iran. It is most active are now fighting in Syria for Assad. In other words, on the side of Russia.
Although correct, it would probably be to say that Russia is fighting in Syria on the side of Iran. Tehran, apparently, sent to this country significantly more ground forces and money, than Moscow. The UN special envoy on Syria Staffan de Mistura in 2015, when Russia was only involved in the Syrian campaign, estimated the annual costs of Iranian support for Assad in more than $ 6 billion. As some Iranian experts say even about spending $ 15-20 billion.
But more importantly. For Iran, again, the Alawite regime in Syria has a strategic, vitally important in the battle with the Sunnis, but because Tehran appears ready to go there for any waste and loss. About Russia, especially given its Afghan experience, this does not tell you. And Syria Moscow is not interesting in itself, but only as a trump card in the global competition with the West for power and influence. Therefore, Russia is ultimately interested in some sort of compromise, in the best political deal.
Undermine Russia's relations with the US and Israel
But militant ally of Russia, Iran to any compromise on Syria with the hated America with a hostile Sunni States are not committed. In this situation Tehran are objectively interested in the breakdown of agreements between Moscow and Washington seems ready to derail their training.
So, the Director of the Center for analysis of middle East conflicts of the Institute of USA and Canada, chief editor of the Internet newspaper Mideast.ru Alexander Shumilin, the radio station "Echo of Moscow" April 11 suggested that the chemical strike in Syria "was inspired and organized by the Iranian generals" to "drive a wedge and slow down the rapprochement between Russia and the United States."
However, the allied loyalty to Iran undermines Russia's relations not only with US but also with Israel. Exactly three weeks before the American missile strike on Syria, March 17, Syrian territory was bombed by Israeli aircraft. She launched air strikes on positions of the Lebanese Shiite group Hezbollah, funded by Iran, and with it is fighting in Syria on the side of Russia.
A week before Israeli Prime Minister Benjamin Netanyahu during a visit to Moscow has explained to the Russian President Vladimir Putin why his country is unacceptable strengthening in Syria, the position of Iran, which denies Israel's right to exist and Hezbollah, recognized by many countries as a terrorist organization. Israel fears that they can benefit from the Golan heights for artillery or rocket attacks on its territory. "However, Russia currently seems unwilling and unable to stop arming Hezbollah in Syria," — concludes the German edition Spiegel.de.
So a military Union of Russia with Iran could drag her in Syria in a variety of conflicts, which increases the risk that at some point some of the warring parties inadvertently or intentionally, such as Turkey in the case of the downed su-24 strike on Russian troops stationed there. And then what?
Comments
comments