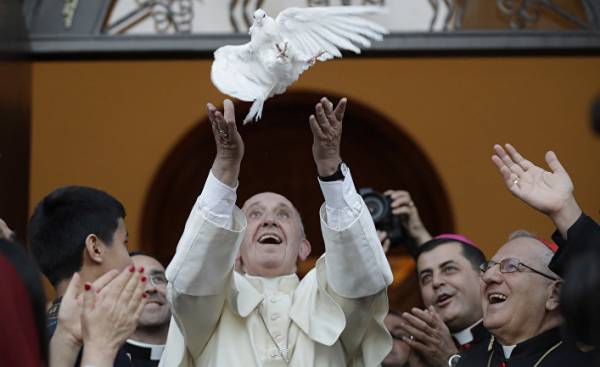 On 13 April, the Pontiff intends to visit the prison, Paliano in the province of Frosinone, where on the eve of Passover he washed the feet of prisoners. This ceremony more than any other embodies the meaning of his pontificate amid growing tension in international relations
"In my opinion, today, sin with all its destructive power manifests itself in wars, in different forms of violence and cruelty, in the rejection of the weakest. The world needs to stop the militarists. Because their actions are paid last and always unarmed." Pope Francis arrives on April 13 in jail, Paliano (Frosinone), to make a mass of memories about the last evening with a ritual washing of the feet of some prisoners. Visit prisoners — a cause for global reflection, which Francis agrees to share with the newspaper Repubblica, on the mission, without which the Church cannot exist: "to meet the last, the outcast, thrown out of our society." Papa Bergoglio said: "Let he who is without sin, cast the first stone at me. Let's take a look inside yourself and try to see our sins. Then our heart will become more humane."
Repubblica: How do You live this eve of Easter, when the world so tense?

Pope Francis: I only have to pray even harder for this world, fallen into the hands of arms traffickers, making on the blood of men and women.
— Holy father, on Thursday You have to travel to the prison. Why?
In one passage in the gospel speaks of the last judgment: "I was in prison, and ye came unto me." Jesus ' commandment applies to each of us, but mostly to the Bishop and the head of the Church.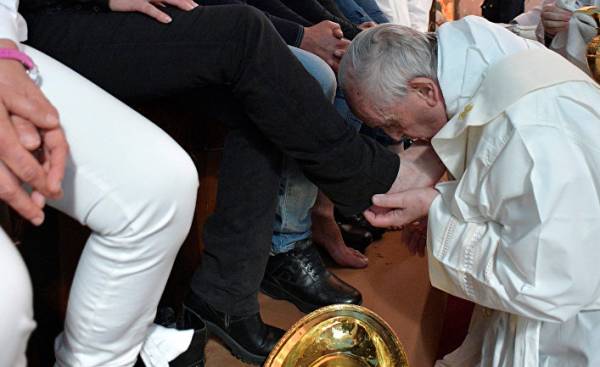 © REUTERS, 'osservatore Romano/HandoutПапа Francis washes feet of prisoners in jail, Paliano, 13 APR 2017
— You have repeatedly said you feel like a sinner, like prisoners. What do You mean?
— Some say: they are guilty. And I reply with the words of Christ: let he who is without sin, cast the first stone at me. Let's look inside ourselves and try to see their sins. Then our heart will become more human.
— That is the task of priests is to help all?
— As priests and bishops we should always help people. As I said during a visit to one prison on Maundy Thursday after my election: it is the duty that I perform from the heart.
— Who taught You how to do that already became a tradition?
— A big lesson for me was an example of Casaroli Agostino (Agostino Casaroli), deceased in 1998, the cardinal, who held the post of Secretary of state of the Vatican. Being a priest, he preached in the prison for minors in Casal del Marmo. Every Saturday night he would disappear: "Rest" — says it all. And he boarded the bus, taking up his work bag and went to practice children, play with them. It was called don Agostino, and no one really knew who he was. When John XXIII received him after his first visit to the countries of Eastern Europe, where he was on a diplomatic mission during the cold war, the end of the meeting, he asked him: "Tell me, are You still visited by those guys?" "Yes, Your Holiness." "I ask You one favor: don't drop them." That was the message of the "Good Pope" in Casaroli left him, few months later he died.
— In short, You believe that the Church should first of all meet the people, thrown out of life. It is Your main mission?
In my opinion, Yes. To meet the last, the outcast of our society, thrown out of its boundaries. When I'm standing, for example, in front of the prisoner, I ask myself: why him and not me? Do I deserve it more than him, who is there? Why he is a fallen and not me? It's a mystery that brings me closer to him.
— In his interview with La Civiltà Cattolica to the question who is Jorge Mario Bergoglio (Jorge Mario Bergoglio), You replied: "a Sinner." Do you really think so?
— Of course, I feel so. The motto on my coat of arms — a phrase from a sermon by St. Bede the Venerable on the occasion of the feast of St. Matthew: "the Lord has turned his gaze". Miserando atque eligendo. "He looked at him with love and have chosen." This is not just a motto. This is my guiding star. Therein lies the secret of God, ready to take on all the evil in the world, just to show their love to the person.
— In the gospel there are many episodes where Jesus is moving closer to those whom society has rejected.
"If I can touch his garment I will be healed" — with great faith says of the bleeding (female, 12 years, suffering from bleeding), she feels inwardly that Jesus can save her. According to the gospel, this woman was banished from society, Jesus grant her health and freedom from social and religious discrimination. This case leads to reflection on what Jesus ' heart is always with those who were banished, incidentally, was perceived and was represented then women.
— Partly this discrimination continues now.
We all, even in the Christian community, are wary of women's vision of nature permeated by prejudice and suspicion, insulting to her inviolable dignity. In this sense, the gospel is what brings truth and brings us to the point, free from prejudice. Jesus marveled at the faith of this woman, whom everyone avoided, and turned her hope in healing.
— The woman felt their exclusion is also due to his sin.
— We are all sinners, but Jesus forgives us because he is merciful. The bleeding was afraid, she didn't want to be seen, but Jesus, meeting her gaze, didn't rebuke her, he takes her with mercy and tenderness, seeking a personal meeting with her, raises her dignity. The same thing is happening with all of us, when we feel rejected for our sins: today the Lord tells us: "Bolder, come here! You are no longer rejected and not rejected, I forgive and accept you." Such is the mercy of the Lord. We must have the courage to go to him, ask forgiveness for our sins and move forward. Bravely, as did the woman.
— Often the one who feels outcast, ashamed.
— People who feel rejected, for example, the lepers or the homeless, ashamed, and like the bleeding woman, are secretly. Jesus lifts us up to his feet and gives us dignity. He gives full salvation, turning this woman's life in the sphere of divine love, and at the same time, raises her dignity. Jesus indicates in this way the path that must pass the Church in conversation with each person, because everyone can find healing in body and spirit to resurrect the dignity as a child of God.
— These days people die from weapons. What do You think?
— I think that today sin with all its destructive power manifests itself in wars, in various forms of violence and cruelty, in the rejection of the weakest. Because of these actions suffer last and always unarmed. I can only pray even harder for this world, fallen into the hands of arms traffickers, making on the blood of men and women. As I said in message on international day of peace, the last century has depleted two murderous world war, he survived the threat of nuclear war, a great many other conflicts, and today we, unfortunately, are fighting a terrible world war in parts. It is difficult to understand, more or less violent the world has become today compared to yesterday and do not make us modern means of communication and mobility characteristic of our age, more tolerant and used to violence.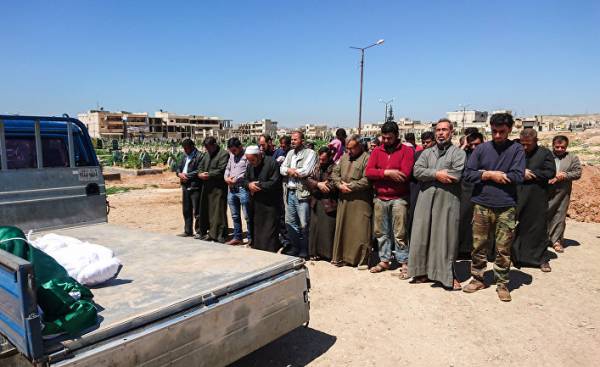 © AFP 2017, Fadi Al-HalabiПохороны victims of a gas attack in Idlib province
— What, in Your opinion, the purpose of these constant wars?
— I always ask this question. What is the purpose? Is violence possible to reach those goals for the long term? All that it means, whether punitive measures and a spiral of deadly conflict, for the benefit of only a few "militarists"? I have repeatedly said this and will repeat that the violence will not heal our shattered shattered world. If violence to respond to violence, in the best case this will lead to forced migration and horrible suffering, because a huge amount of resources used for military purposes, and the youth, impoverished families, the elderly, the sick, the vast majority of people in the world are deprived of them. In the worst case, it will lead to physical and spiritual deaths of many, and perhaps all people.
But no matter what, You carry a message of peace and hope in prison?
Sometimes because of some of the hypocrisy we see in prisoners only those people who are wrong, whose only path is the stay in prison. But, once again, we can all be wrong. Everything was wrong. Because of the hypocrisy we see no possibility of change lives: we don't believe in rehabilitation, the return of man in society. But we forget that we are all sinners, and often even prisoners, without knowing it. When a person is locked into their own prejudices or is a slave to the idols of a false well-being, when it exists within an ideological schemes, brings to the market laws, people facing each other, in fact he is locked up in a close chamber walls of individualism and self-sufficiency, he is deprived of the truth, which generates freedom. Then there is no excuse for someone who pokes a finger at someone wrong, to conceal its own contradictions.
Comments
comments