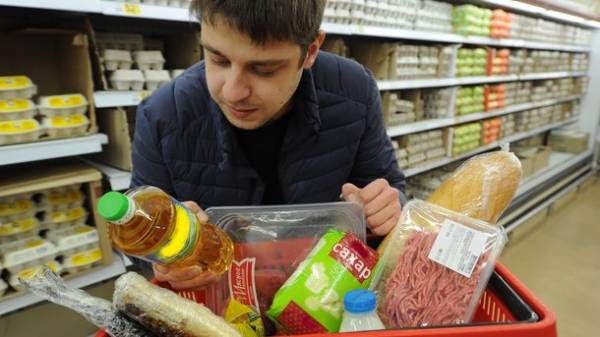 The cost of the minimum food basket (IPC) in Ukraine in July fell for the first time since the beginning of the year to 1421 hryvnia for able-bodied persons, accounting for 84% of the subsistence level for this category of the population. This was reported in the Ministry of agrarian policy with reference to public Association "the Economic discussion club."
Experts said that the reduction was achieved due to a seasonal reduction in the cost of fruits and vegetables. Thus, the cost of goods in the group "vegetables and melons" declined by 37% (minus 62 UAH), "fruits and berries" by 24% (minus UAH 50), potato – 24% (minus 19 UAH). Also decreased and the price of eggs – by 16% (minus 3.5 hryvnia).
"Thus, July was the first month this year when there was a reduction in the cost of the IPC. In absolute terms, in July compared with June, the cost of IPC decreased by 124 of the hryvnia," – noted experts.
SEE ALSO
Products in Ukraine will continue to go up – expert
At the same time, the experts stressed that such a substantial reduction in price can be expected in the coming months, as the main and only factor of this trend by the seasonal factor.
According to experts, the cost of IPC which consecutive month keeps the lead the dairy group of products, which account for almost 28% of all expenses of the IPC (393 UAH). Second position keep the cost of meat products – 24% (336 UAH), and the third place is for fruit – 11% (160 UAH). The smallest share in the structure of expenditures within the IPC group have "eggs" (1,3%) and "oil and vegetable fats" (1.9 per cent).
SEE ALSO
In Ukraine shoot up the price of cucumbers
Recall, the cost of the pan Ukrainian borsch with a meat volume of 3.5-4 liters in June increased compared to may by 9.2%, to 90.62 hryvnia due to an increase in consumer prices for most of the ingredients of this dish. According to analysts, more than anything, the price has increased for vegetables, particularly cabbage – 1.8 times, beet – 1.4 times. Beef has increased in price by 4.5% per kilogram.
The subsistence minimum for able-bodied persons in Ukraine from may 1, 2017 is set at 1684 UAH.
Comments
comments