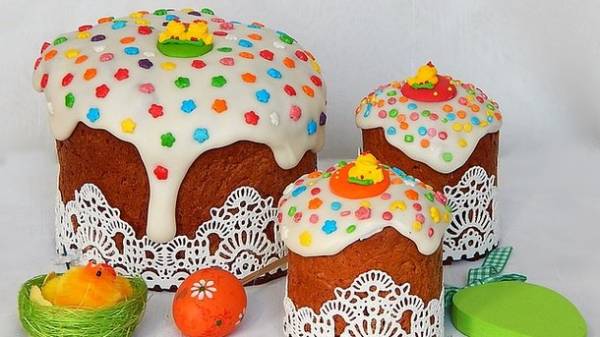 Today, on Maundy Thursday, it is customary to start preparing for Easter. To paint eggs, baking cakes and festive cakes – fun, but not everyone has the ability and desire to engage in them.
The website "Today" has collected the TOP 10 pastry shops and bakeries where you can buy ready-made cakes and cakes.
Volkonsky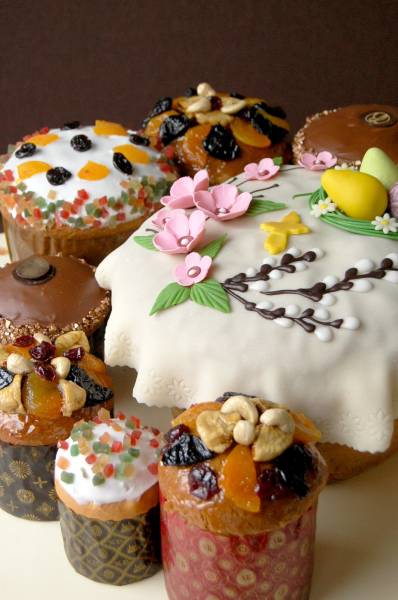 Photo: wolkonsky.com
At the bakery noted that cakes prepared exclusively from natural products without using any dyes and fragrances.
Price range depends on the weight and filling of the cake: traditional cake weighing 550g for 250 UAH, or the set of three cakes 100 g 190 UAH.
And if you want something unique, post art cake decor handmade from marzipan. But it will cost more expensive – the weight 2 to 3 kg — 470 UAH/kg.
Paul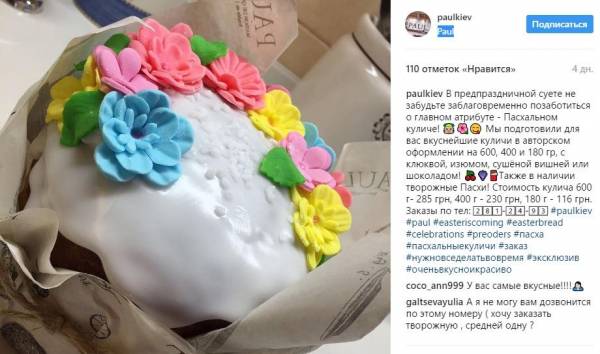 Bakery introduced their own versions of Easter cakes the art. The weight of the cakes can be 600, 400 and 180 gr, and among the stuffing – cranberries, raisins, dried cherries and chocolate.
Also available cottage cheese Easter.
The cost of the cake 600 g – 285 UAH, 400 g – 230 UAH, 180 g – 116 UAH.
The cream of society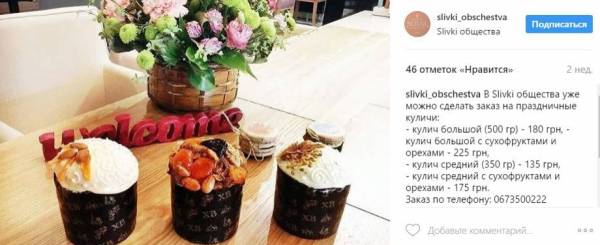 In the cafe were well prepared for the Easter holidays and baked cakes. Of the most common toppings – dried fruits and nuts.
Prices for cakes depend on the weight and fillings: cake large (500 g) – 180 UAH; a large cake with dried fruit and nuts – 225 UAH; the average cake (350 g) – 135 UAH; the average cake with dried fruit and nuts – 175 UAH.
Baker Street bakery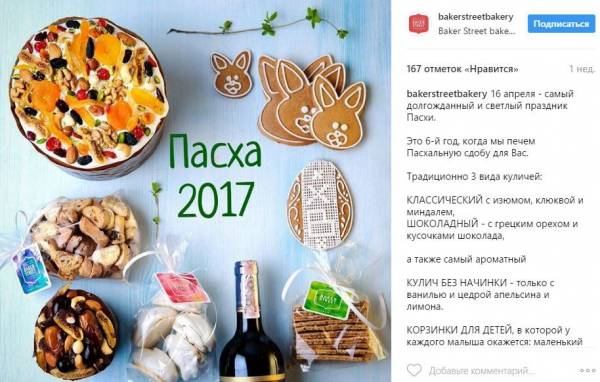 Patisserie-bakery prepared for the Easter holidays is not only Easter cakes, and gathered a whole basket.
Cakes with fillings: small (450 g) – 215 UAH, large (900 g) – 400 UAH
Cakes without toppings: small (400 g) – 150 UAH, intermediate (650 g) – 230 UAH, large (1 kg) – 330 UAH.
If you want to please your child – make them a basket for kids, where every kid will be a small cake, gingerbread bunnies and meringue with nuts. It costs $ 425 UAH.
There are large gift basket with 2 types of cakes, biscuits and meringues, holiday cakes and a bottle of dry red wine. Its cost is higher – 1550 UAH.
Eclair Little Artwork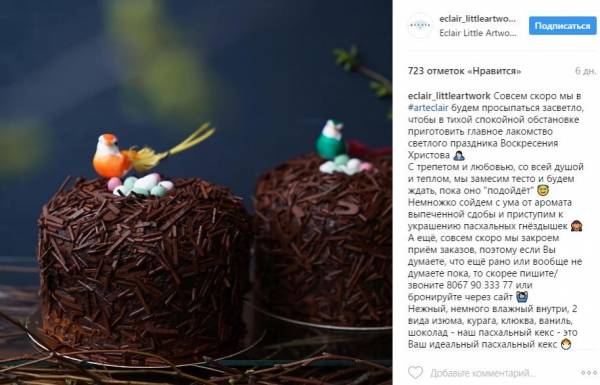 A bakery that specializiruetsya mainly in the production of éclairs, prepared for Easter.
Its customers they offer a "perfect Easter cake": a delicate, slightly humid inside, 2 kinds of raisins, dried apricots, cranberries, vanilla, chocolate. The cost of this cake, weighing 1.2 kg will amount to 490 UAH.
Caramel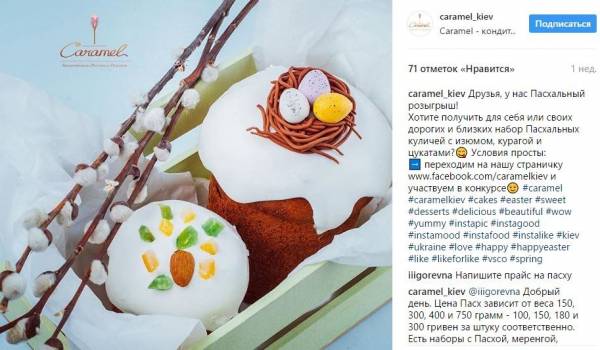 Pastry shop and bakery offers Easter different cakes weigh 150, 300, 400 and 750 grams. The price is 100, 150, 180, and 300 hryvnia per share, respectively.
Also a patisserie serving sets cake, meringue, biscuits and ardakani 500 hryvnia.
Cplic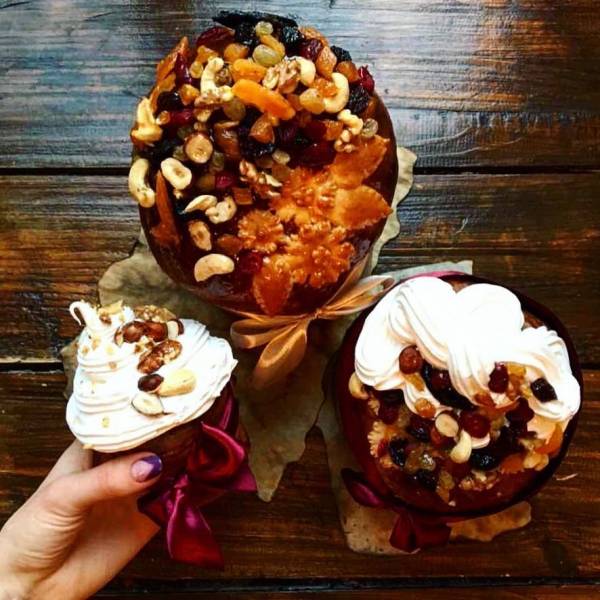 Photo: facebook.com/kifliktaste

Ethno-gastro-cafe offers eat for Easter delicious cakes, the cost of which depends not only on weight but also kind of sweet or fresh.
Sweet Pasca: large 550-650g / 220грн, little 250-350g / 160 UAH per. person.
Fresh Pasca: large 550-650g / UAH 200, small: 250-350g / 120 UAH.
Stolle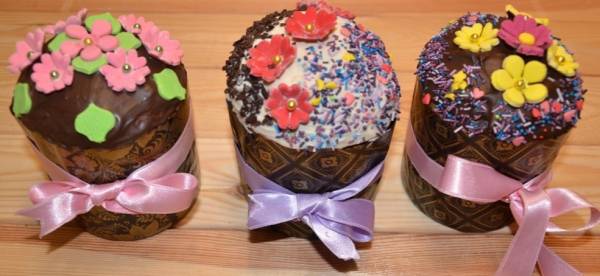 Photo: stolle.com.ua

Pie shop made its customers is customary for every taste and at affordable prices. They were baked according to traditional recipes and decorated festively.
Easter holiday: 0.28 kg – 87.00 UAH.
Pasca great with dried fruit: 0.6 kg – 180.00 UAH.
The Easter cake with dried fruits: 0.30 kg – 95.00 UAH.
Easter is a big holiday: 0.56 kg – 170.00 UAH.
"Reprise"

Boutique cafes are traditionally prepared for Easter holidays and offers customers author Pascu on the classic recipe in the designer box.
The cost of such a cake weighing 750 grams will be 335.00 UAH.
Madame Josy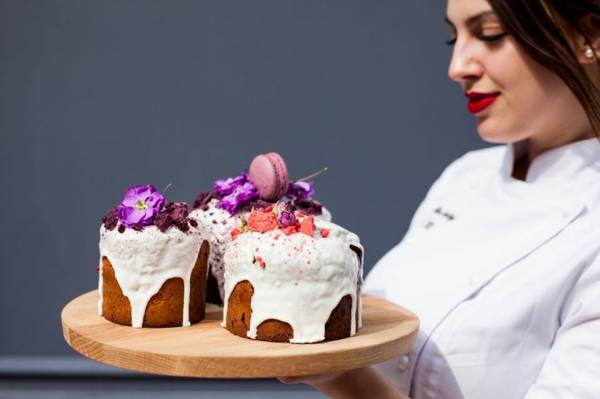 Photo: facebook.com/Madame.josy

The French restaurant made for Easter graceful and elegant cakes with various toppings: raisins are of two kinds, sun-dried cranberries, dried cherries, zest of lemon and orange, vanilla and cognac.
The cakes are available in three sizes: large (650 g) – 320 UAH, medium (400 g) – 225 UAH, a small (300 g) – 160 UAH.
But it is worth noting that most of the bakeries and patisseries are open on pre-orders and in the free market may be only a small selection of cakes. So you need to hurry.
And if you do decide to bake a cake for Easter, then Today cooked TOP recipes for festive cakes and cakes.
Comments
comments