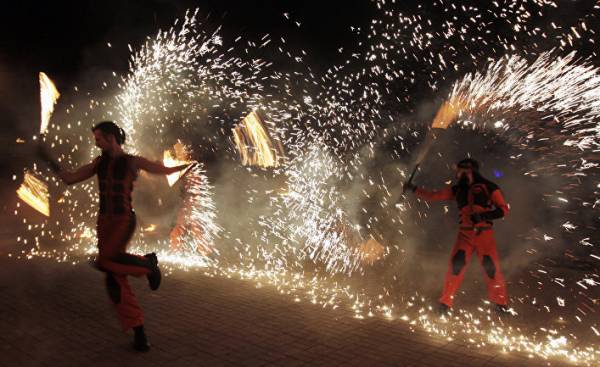 Donetsk people's Republic (more recently just Donetsk) is a strange place.
 
This territory, consider themselves to be ethnically, culturally and politically Russian, not Ukrainian, in 2015, was captured from the Ukraine by local militias and Russian forces, and then turned into a geopolitical weapon-filled Petri dish. To understand what happened with the city, worth a look on trip Advisor, YouTube or Facebook. It becomes immediately noticeable that this place is practically no fresh information. All that is — not to mention the military reports, — goes back to the time before the conflict, when Donetsk was in many ways the second most important city in Ukraine. Then it flourished art and nightlife and its football team enjoyed some success in the world.
Since it's been 18 months, killed almost 10 thousand people. In place of the art centre now a military warehouse and a football team plays on the other end of the country to Secure a European Ukraine.
The people's Republic is usually called the abbreviated DNI. This is a separate, imbued with the ideology of paranoia place. The war continues, but it is clearly deadlocked. The city centre is no longer falling shells, and the life in it flows, at first glance, as usual. However, even in sushi bars and hotel Ramada hear on the front line firing mortars and grenade launchers. Best gunfire heard after 23 hours when you begin a region-wide curfew for all civilians. the Streets are quickly emptying — for those who remain, face up to 15 days in jail. At five a.m. the curfew ends, and on the road again appear on the machine.
Donetsk remains a living city. People live here, work here and even manage to have fun. In the city there are still a few night (at least, open to 23 hours) clubs, which is why I decided to shoot an episode of "the Big spree". I was wondering how in a place it is possible to find time for fun. Journalists most of the media coverage here is usually not allowed, but to withdraw the transmission of the nightlife we were still allowed. Still don't really understand why.
Our contact was an eccentric Finn named Janus Putkonen (Janus Putkonnen), it took a relatively high position in the actual government of the DNI, not knowing a word of Russian. Janus — all of those people who brings chaos to the top. He is a former actor, who starred in "soap operas", theatre Director, blogger, specializing in alternative news and a Communist of the old school, convinced that the NPT is at the forefront of "world revolution".
It is not difficult to imagine masham Colonel Kurtz or Lord Howe Hau — a stranger who has found some kind of power in a place where nobody dared to turn up. Something in this spirit he was bound to come. A very peculiar type. I think we about it still will hear.
Just to get to Donetsk. you have to cross two military checkpoints with the Ukrainian side and the Russian. Two States separated from each other demilitarized road length in miles. Vast fields of sunflowers on both sides heavily mined. Ukrainian checkpoint looks more formal. It is similar to the airport, only with a slightly large number of weapons and thorough checks of cars. With a Russian — or Gnarovskoy — everything seems more wild and threatening, but the control is easier. On guns, AK-47, hanging at the belts of the young soldiers, trash and stray dogs. The eye immediately catch the eye of fashion sunglasses and new running shoes military.
"… Ukraine", — threw me one when we left.
Coming to this part of the world, expect total war, but receive only the feeling of startling strangeness happening. In the end you get used to the distant sound of gunfire. They are so ordinary and there are so separate from reality that being in a safe urban center, simply forget about them. Instead you begin to focus on other things: on closely watching you and the people in the lobby of the hotel ("It's just the mafia," soothe us escort), Facebook notifications about suspicious activity in the account, and armed visitors cafes and restaurants. At the entrance to the hotel gym I saw a fully armed military — in high rank. He was sitting, was texting and looked out the corner of my eye the music channel in which twisted some Russian club music.
While DND is not without a peculiar charm. Its Stalinist habits lead to staunch opposition to globalization. There are no familiar networks and brands — with the exception of the Ramada, a lone American Ghost. Banks in Donetsk either. Walking around the city, it's hard not to admit that here was accomplished what the left in the West so long. Donetsk is a dream of Russell Brand (Russell Brand) (British TV presenter, known for leftist views, approx. transl.), it is true, brought to life in circumstances that would hardly even the most ardent of leftists.
However, among all this strict control and total chaos are still visible glimpses of the night life — foam party in the beach resort, the club is full of soldiers, dancing traditional dances, the team of adolescent cyclists calling themselves Pilz (a kind of Russian version of the Palace, with its own line of caps). And in all this is the resistance of the local people, which persists even under the rule is clearly overloaded with all sorts of shit system. On such background of all this our romantic escapism under the motto "living for the weekend" looks something very small.
Comments
comments