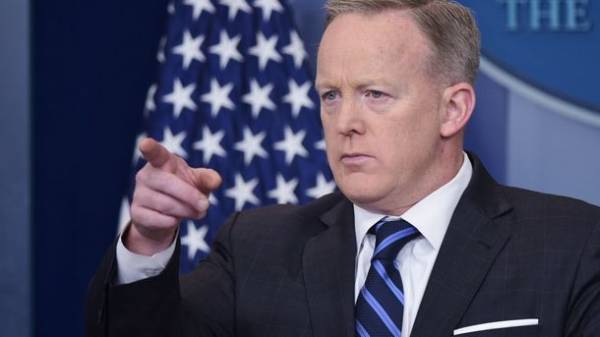 Press Secretary of the White house Sean Spicer said on Tuesday that Russia, despite the fact that is not dysfunctional government, stood on a par with Syria, Iran and North Korea, isolating themselves.
"Russia is isolated. They put themselves in line with Syria, North Korea and Iran. With the exception of Russia, all this dysfunctional state," he told reporters at a briefing.
In turn, a high-ranking representative of the US administration said that Russia should stop trying to deny the responsibility of President Bashar al-Assad for the chemical attack in Idlib province and to start working together with US work on the destruction of Syrian chemical weapons. "The Russians have an opportunity to stop this campaign of disinformation and commit itself to promote the destruction of chemical weapons in Syria, along with us," he told journalists on Tuesday.
The official accused Russia of "use campaigns information or disinformation to pass on to someone else the guilt of the Assad regime."
Recall, April 4, in the Syrian town of Khan shaykhun there was a chemical attack, which killed nearly 100 people. Most Western countries and the Syrian opposition blamed it on the Syrian government. In Damascus, the accusations, assuring that never used chemical weapons on its territory.
In response to this alleged attack the United States caused by last week's missile attack on a Syrian airbase.
Comments
comments