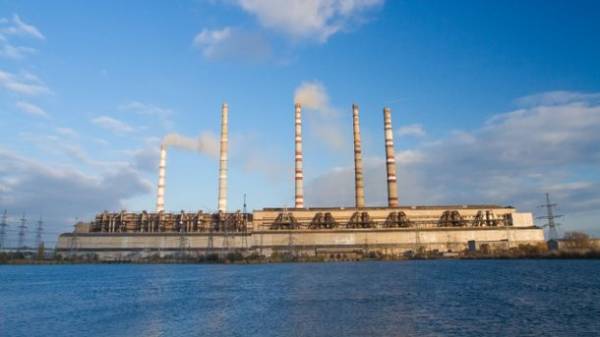 Tonight stopped kryvorizka TPP. Due to the blockade of coal supplies from Donbass Feb kryvorizka TPP is not getting fuel. The station operated as a single unit as long as possible, to provide heat 14 thousands of residents of Zelenodolsk before the end of the heating season. Kryvorizka TPP will be able to restore the work after receipt of the coal.
Stock DTEK kryvorizka TPP is about 30 thousand tons of coal is a mandatory need for back-up fuel supply in case of emergency situation in Ukraine's UPS. The team Manager of the power system the power station will be able to join in the work. Krivorozhskaya TPP and Pridneprovskaya TPP compensate for the power of the Dnieper power unit during repairs at the Zaporizhzhya NPP.
During the forced stop of TES staff will perform needed repairs of equipment. In addition, at the kryvorizka TPP completion of an important project – reconstruction of one of the units. By mid-summer of energy DTEK needs to complete the work. In General for the next heating season at the kryvorizka TPP will be ready two updated units.
"To procure imported coal for the kryvorizka TPP, we need additional resources. The import price twice the price of Ukrainian coal (us $ 110-115/tonne). The debt of Energorynok to DTEK kryvorizka TPP on March 1 totaled 463 million UAH", – said the Director of DTEK kryvorizka TPP Vitaliy Pitko. – Within a few months kryvorizka TPP will stand, for it is time to bring at least the minimum required stock of coal in its warehouses. DTEK has already contracted one ship with anthracite. Its delivery is expected in may".
We will remind that on April 5 due to the operation of the coal was stopped, DTEK Prydniprovska TPP.
Comments
comments