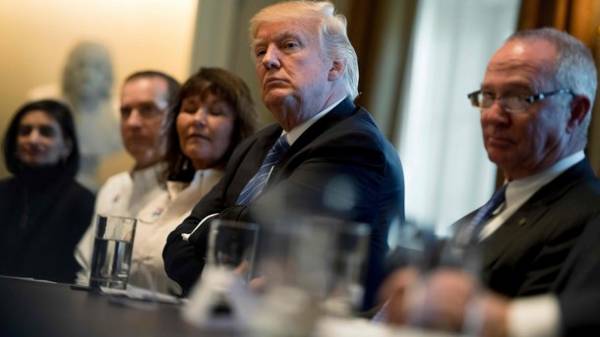 The US President Donald trump said Saturday that he befriended the President of China XI Jinping and his wife during their visit to America, but I am not sure that this will resolve disagreements in trade.
"It was a great honor to receive as guests of US President XI Jinping and Mrs. Peng Liyuan (wife of the Chinese leader – Ed.). Formed terrific good will and friendship. But only time will tell what will happen with the trade," he wrote on Twitter.
Trump during election campaign promised if elected President to get China changes intended to create more favorable conditions for U.S. bilateral trade.
As earlier reported, both sides announced that the first personal meeting trump and XI Jinping, held in Florida in the framework of the visit of the Chinese leader, was useful.
"The two leaders held positive and productive meetings. President trump and President XI Jinping agreed to work together to expand areas of cooperation, overcoming differences through mutual respect", – stated in a press release, the White house on the visit of the President of China.
However, it notes that trump "pointed to the challenges emerging as a result of the intervention of China in the us economy, expressed concern about the impact of the Chinese industry, agriculture, technology and policy in cybersecurity jobs and exports of the United States."
The white house noted that the parties agreed with the necessity of urgent solution of the problem with the "threat posed by weapons programs in North Korea, confirmed their commitments to the denuclearization of the Korean Peninsula and the implementation of UN security Council resolutions".
"They (parties – Ed.) agreed to strengthen cooperation and work with the international community to convince North Korea to peacefully resolve the issue and to abandon its illicit nuclear and missile programs," – said in a press release.
Trump said the White house, said XI Jinping about the importance of "compliance with international laws and regulations in the East China and South China seas", as well as human rights.
USA and China have agreed on the formation of a number of government mechanisms for promoting cooperation: Dialogue on diplomacy and security Dialogue, economic cooperation and Dialogue in the field of law enforcement and cyber-security Dialogue on humanitarian cooperation.
In the message the Ministry of foreign Affairs of the PRC States that "both parties believe this summit successful."
"Both sides agreed to make joint efforts to expand areas of mutually beneficial cooperation and to overcome differences on the basis of mutual respect", – stated in the message.
It also indicates that XI Jinping stressed that negotiations with trump, both leaders "have strengthened mutual trust, reached consensus on a number of critical issues, established a good working relationship".
XI Jinping stressed the need for further development of bilateral economic and trade cooperation, strengthen the ties between the armed forces of the two countries, the joint fight against drug trafficking, child trafficking, money laundering, cybercrime, organized crime.
Comments
comments