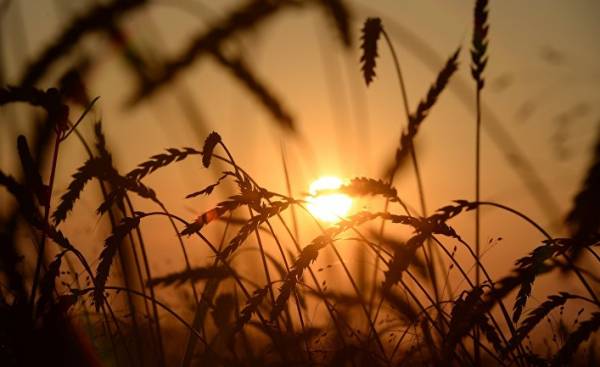 Jim Rogers (Jim Rogers), a former partner of George Soros (George Soros) in his legendary Quantum Fund, decided to invest heavily in Russia's agricultural Renaissance.
Rogers, who regularly predicts major markets in serious trouble, has already acquired stakes in three major Russian companies: Aeroflot, the stock holding company Moscow exchange and Russia's largest fertiliser producer PhosAgro, of which he became a member of the Board of Directors.
Investment activities of Rogers draws attention to his past achievements. For the 10 years that he worked in the Quantum Fund, the profit of the Fund amounted to 4200% while the S&P 500 index increased by almost 50%. Today, he invests through a private company, Rogers Holdings.
Rogers became a member of the Board of Directors "FosAgro" September 14, 2014, which may serve as a clue to understand his way of thinking.
""FosAgro" is an excellent company that offers investors a great profit thanks to the high quality of her fertilizers, to its vertical integration and low production cost. I watched in the last few years, this company has successfully evolved as a global player, practicing a flexible model of sales and production that helped it to enter new markets, and investments in its Russian production assets has enabled PhosAgro to expand and improve its product portfolio", he said.
"Although Russian equities experienced significant pressure for much of 2014, I believe that the stock performance of the Company, which has become one of the most successful companies in 2014, proving that investors realize that this company has world class assets and significant potential for sustainable growth."
Rogers decided to become a member of the Board of Directors at the time when Russia imposed a ban on the import of agricultural products from EU countries, forcing domestic producers to increase their production. Results become visible in 2016, when the volume of food imports declined by 6% and exports increased by 5%.
Since the introduction of the ban in Russian agriculture have been other positive changes. Mild winters, 3.3 billion in Federal subsidies, simplifying lending procedures and the growing need to provide conditions for the development of agriculture with a view to import substitution contributed to the fact that, as many experts are anticipating will become the largest wheat crop in the history of Russia, according to the Ministry of agriculture of the United States. In 2016, the volume of agricultural production increased by 5%, and Russia intends to become a leading agricultural power.
"It is expected that a record wheat harvest in Russia, combined with its price competitiveness — black sea wheat today is the cheapest in the world — will allow Russia to become a leading wheat exporter, overtaking the European Union, which was the main exporter in 2013 and 2014. Although the changes this year were largely due to a poor wheat harvest in the European Union, Russia for several years steadily increased its share in world markets together with the EU, which is its main competitor and over the preceding three years was a leading exporter", — stated in the report of the Ministry of agriculture of the USA, published in September 2016.
All this testifies to the return of Russia to the glorious days that preceded collectivization, when from 1928 to 1933 the Soviet government under the leadership of dictator Joseph Stalin forced millions of peasants to join collective farms. Eventually famine forced millions of peasants to abandon the land and leave the city.
Now Russia plans to revive agriculture by legislation. In 2016, a law was passed that allowed to take 34 thousands of hectares of land from "unscrupulous owners" is two times more than in 2015, as Russian Minister of agriculture Alexander Tkachev at a meeting of the Ministry Board on 7 April.
Tkachev called the land potential of Russia "inexhaustible," noting that the government could bring 10 million hectares of agricultural land.
However, those same climate changes that led to the formation of a mild climate, optimum for the cultivation of grain in Russia may also prove to be a deterrent. In some regions of the country wheat crops may be reduced due to the reduction of precipitation amount of 22% by 2020, warned about Climate Change Post. In 2010 hotter than usual summer has provoked a drought, which resulted in the volume of grain harvest in the country fell by 30%.
IPO "FosAgro" was held in 2012, and by the end of 2016, the company managed to increase her volume of production of phosphate fertilizers by 37%. It is expected that by 2020 it will demonstrate an additional increase of 20%, because now Russia has been the rise of agriculture. Compared to the previous year in 2016, the demand for fertilizers in Russia increased by 16%.
Despite the increase in volume of production and sales by 9%, compared to 2015 year 2016 year profit of "PhosAgro" decreased by 1% due to the decline in world prices for fertilizer have reached the minimum since the financial crisis of 2009, and also due to the fall of the ruble. Net earnings per share rose 64% to $ 8.07. Operating cash flow decreased by 20% to 751 million dollars.
In November U.S. elections led to the growth rate of shares of "PhosAgro", which peaked over the previous 52 weeks, however to date it has declined by 6.7% to 2 425 rubles per share.
This week, Rogers told Reuters that he would also like to invest in North Korea, but he can't do because of his American citizenship. However, he gave this advice: "do Not listen to my advice. No do not listen whose councils. If you want to be a successful investor, invest only in what you really good".
Comments
comments