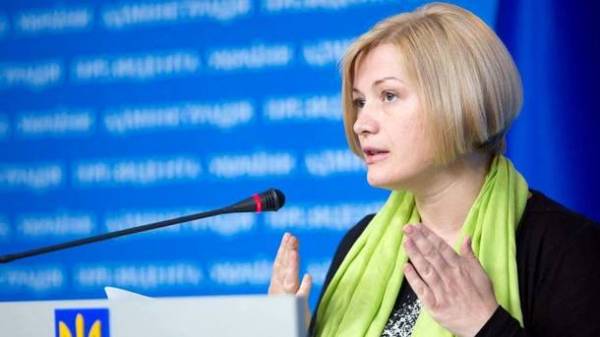 First Deputy Chairman of the Verkhovna Rada of Ukraine Iryna Gerashchenko said that the Russian Federation opposes the creation of a fifth working group on border issues within the framework of the Trilateral contact group on settling the situation in the Donbass, because not going to leave the Donbass. About this Gerashchenko said during the panel discussion "Europe: a clash of interests" within the framework of 10-th Kyiv security forum.
According to Gerashchenko, within two years the Ukrainian side insists on the creation of a working sub-group on border issues.
"The word "border" the Russians just become, you know, members of bullfighting. Obviously because they consider this region as their territory, which they really are not going mental there, transfer to Ukraine", – said the politician.
In this regard, it agreed that the issue of borders is important, but, in her words, an even more important question in this context is the issue of elections.
"Because the election "English" and elections in Ukrainian and the language is a different election. We insist not on the box that held the elections, and that they must comply with the standards of the OSCE, there should be involved internally displaced persons, because they are the voice of Donbass. There should be Ukrainian media today if you go there, you will be, again, the hostages", – said Gerashchenko.
"There should be easy to come to the diplomats. But today, as correctly pointed out by the Ambassador (the Ambassador of Germany in Ukraine, Ernst Reichel), diplomats go into a deep rear – in the Slavyansk and Kramatorsk. This is the heartland, safe, such as Kiev. But in Marinka, Avdeevka drive units," – said the first Vice-speaker.
Recall that the representatives of individual regions of Donetsk and Lugansk regions confirm the whereabouts of only about 50 hostages from 121 declared in the list of the Ukrainian side.
Comments
comments