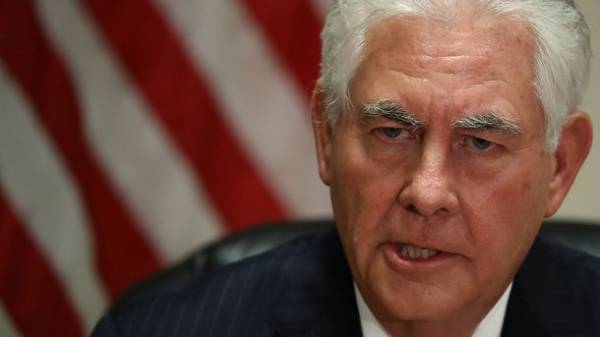 U.S. Secretary of state Rex Tillerson admitted that he is disappointed in Russia's reaction to the US attack on the air base, "Sirat" in Syria, but it was expected, Reuters reported.
Moscow's position indicates that she continues to support the regime of Syrian President Bashar al-Assad, said the head of the state Department.
In the night of Friday, the U.S. attacked with cruise missiles from ships on the airfield in Syria shirt in HOMS province, without any proof claiming that he had carried out a chemical attack in Idlib province. According to the Governor of the province of HOMS, seven people were killed: five soldiers and two civilians from the village, located at the airbase. According to the defense Ministry of Russia, two Syrian soldiers were missing, four were killed and six suffered burns in extinguishing fires. The Syrian armed forces said it killed ten Syrian soldiers.
Russian President Vladimir Putin called the U.S. missile strike on Syrian airbase aggression against a sovereign state. According to him, this action caused substantial damage to the relations between Moscow and Washington. Deputy permanent representative of Russia to the UN Vladimir Safronkov at a meeting of the security Council of the organization stated that the US aggression is directed against those who are fighting with the terrorists and thus only contributed to the strengthening of terrorism.
Comments
comments