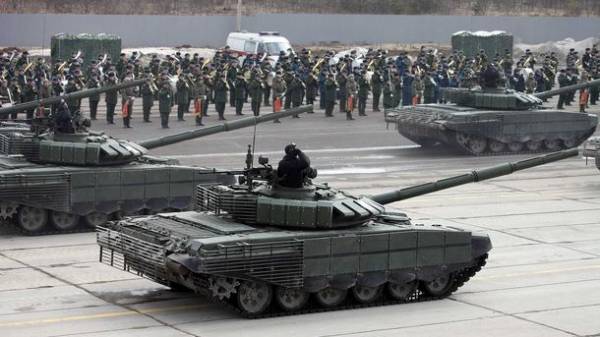 In Alabino near Moscow, where the preparations for the victory parade, for the first time demonstrated a new modification of the Russian T-72B3, reports Popular Mechanics.
Tank T-72 B3 — this is a modernized T-72B, developed as a cheap alternative to the T-90A to receive the armed forces of the Russian tanks of the new generation. The serial program of modernization of tanks T-72B was adopted in Russia in 2010, T-72B3 adopted as the standard in 2012.
The upgraded tank is fitted with the engine IN-92С2Ф (1130 HP) caterpillars with oblique cleats and wheels with an improved cleanability, a complex display of the driver and the television camera rear vision, sight "Sosna-U" development of the Belarusian company "Peleng", which includes automatic target tracking (ASC) and thermal imaging channel.and the automatic tracking of targets, type a new gun 2A46M-5−01.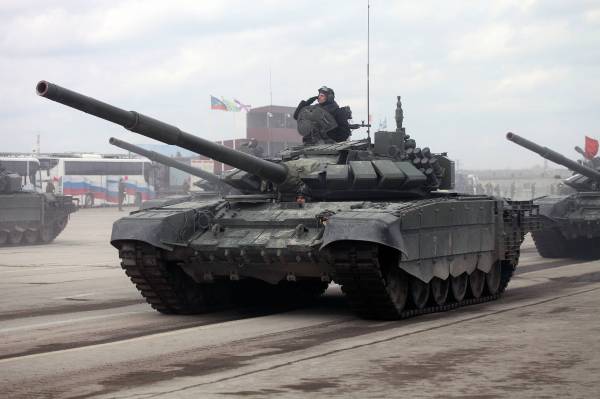 Photo: Vitaly Kuzmin facebook.com/77RUS
The communication system consists of radio station VHF R-168−25U-2 "Aqueduct". It includes 2 transceiver, which provides an open, masked or secret radio.
It is reported that strengthening the protection of the tank is achieved through the installation of side screens housing with integrated dynamic protection modules type "Relic" and lattice screens of the boards and modules of the reactive armor and lattice screens of the tower, increasing its resistance to anti-tank shaped charge means. In addition, the machine reinforced anti-mine resistance.
Comments
comments