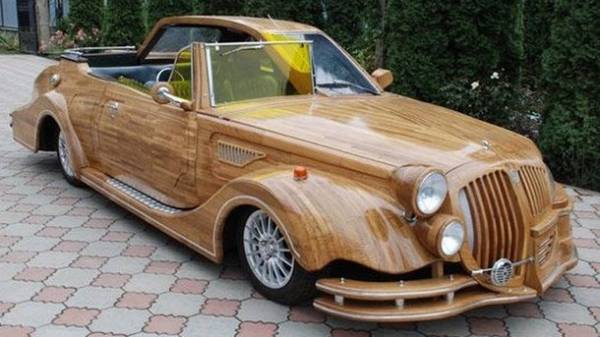 On the Ukrainian site of free announcements there is a unique: "two-faced" car, the body is made of natural oak, – the "Popular Mechanics".
Extravagant home was designed by Vasily Lazarenko from Chernivtsi. To do this he had to quit his job and sell two of your own car, but the result left no one indifferent. For the half year engineer their own efforts, designed and made from natural wood body, as if combines two cars from different eras. A donor to "two-face" car was a coupe Opel Ascona 1981 issue.

The left part of the car is a coupe, right convertible in the style of the 1930-ies. Details incredibly eclectic body can be considered infinite. Here is the headlight from a Audi A4 B6 generation, but the lamp from Mercedes-Benz E-class W210 generation. Bumpers right half like on the armrests of the sofa, and the wing of the left half.

Dark green leather interior also received a generous portion of wood trim. Basil argues that the body is "oak" car is not afraid of fire, because wood is impregnated with preservative.
Now a spectacular home for sale for 50 thousand dollars as the "Opel" (obviously, the car is still considered such by registration documents).

We will remind, in Kharkov smasteRIL unique deRevannoy "Volga".
Comments
comments