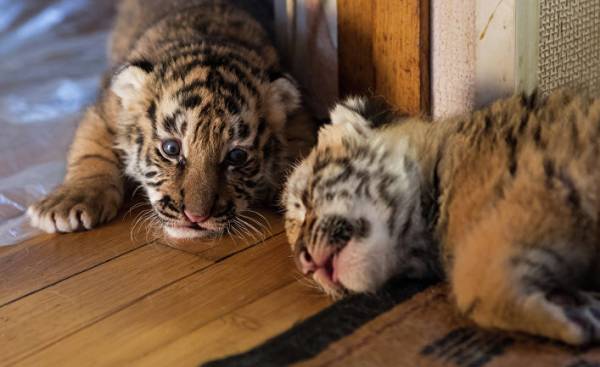 "Stop the sale of tiger cubs on the black market!" — this call was published by the website of Animals Lebanon after it had been found three cubs. The animals were sent from Siberia in the Syrian zoo. Information about this horrible case, reported the Associated Press.
The tigers, who were transported from Ukraine, arrived in Rafic Hariri airport (Beirut, Lebanon's capital city — approx. ed) the seventh of March. Before that they were kept in a box with a height of 42 cm for seven days, given that the length of the animal has reached 60 centimeters. Their bodies were covered in excrement. This is contrary to the rules of the International air transport Association (IATA) and the Convention on international trade in endangered species of wild fauna and flora threatened of extinction (CITES). A box in which were the cubs were not suitable for transporting any animals, it did not include the names of the sender or recipient. The Director of a zoo Vladimir topchy, sent three cubs from the Ukrainian city Nikolaev to Syria, the Director of the local zoo Samir Hussein. Stated that the contract on sending the animals was lawful, was obtained a customs license. Vladimir topchy believes that the shutdown of transportation in Lebanon occurred because of the difficulties that have occurred with documents and information. He also stressed that tigers really were in a narrow box, zoo Director was arrested for this reason. He added that the authorities wanted to confiscate the cubs.
Executive Director Jason Meyer said that the community of Animals Lebanon have noticed that the shipment is sent to the zoo of Damascus after arriving in Beirut, so they helped to free the cubs. Mayer pointed out that the cubs were in a squeezed state for a whole week, they suffered from thirst, their bodies were covered with excrement, which led to the emergence of parasites. Now the cubs are in the Wellness center and are observed by the vet. Animals to be vaccinated, their condition improves.
Tigers are estimated to cost tens of thousands of dollars on the black market. For this reason, today there is a struggle for the recovery of the species. However, this will not be possible without the implementation of the CITES Convention and compliance with the strict terms of the sale of such animals.
Lebanon adopted a law on the protection of animals in 2015. Was assigned the status of animals, it was found that animals can be sold only after confirming appropriate conditions. Also, Lebanon has signed several international treaties on the protection of animals, including CITES.
Comments
comments