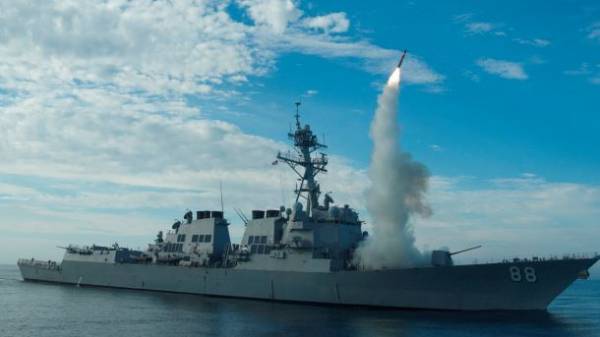 Only 23 of the 59 Tomahawk cruise missiles that launched the U.S. Armed forces at the air base in Syria, reached the goal. This was at the briefing said the official representative of the defense Ministry major General Igor Konashenkov, Russian media reported.
"According to the Russian means of objective control, to the Syrian air base flew only 23 rockets. The place of fall of the remaining 36 cruise missiles is unknown," – said Konashenkov.
By words the General-the major, the effectiveness of an American attack was low. "Thus, the combat effectiveness of a massive American missile strike on Syrian airbase – extremely low," he said.
Konashenkov also said that after the US attack on an airbase in HOMS province, the Syrian air defense will be improved. "To cover the most sensitive objects of the Syrian infrastructure will be soon implemented a variety of measures to strengthen and enhance the effectiveness of the air defense system of the Syrian armed forces," – said Konashenkov.
Major-General also spoke about material losses suffered by Syria after the destruction of the airbase. "The strike destroyed a logistics property, academic building, dining room, six were in the repair hangar of the MiG-23, as well as a radar station," – said Konashenkov.
However, earlier the President of the Russian Academy of geopolitical problems, doctor of military Sciences Konstantin Sivkov said that the American "Tomahawk" could be destroyed during the strike on the airfield by Syrian government forces, about half of the aircraft.
According to him, American missiles could destroy 40 aircraft troops of Bashar al-Assad.
"As far as I know, until today the number of capable aircraft standing on the arms of the Syrian air force was around 80-90 cars. The missile strike had destroyed about 40 aircraft. That most of them were relocated in advance of Idlib, I do not believe," – said Sivkov.
Comments
comments