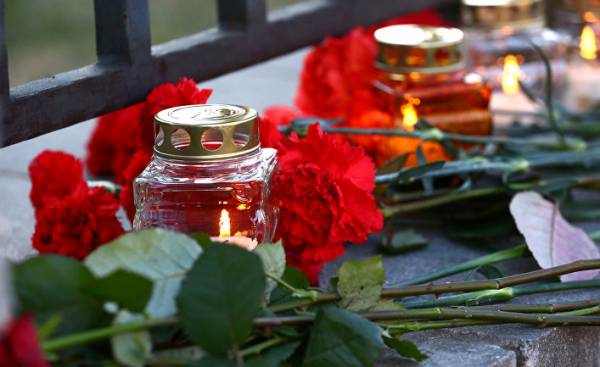 Terrorism returned to the Central part of Russia on Monday after a long lull, which now seems deceptive. Bomber made in Saint-Petersburg subway attack, which killed at least 11 people, and 51 people were injured.
As in the West, the Russians in such cases tend to rally around their leaders. And President Vladimir Putin, like his Western colleagues, it seems, is not interested in a public debate on the role as the factor that provoked such tragic consequences, could play the Russian decision to take part in the civil war in Syria (if at all possible to speak about some role).
However, analysts note that after had established the identity of the terrorist — a native of Kyrgyzstan Akbarjon Jalilova, a former resident of the troubled Central Asian city of Osh, the probability that such a connection will indeed be found, increases.
"Until now, the main official argument in favor of our intervention in Syria was that there we're fighting terrorists from Russia and the former Soviet Union so we didn't have to face them here," says Alexander Golts, an independent expert on security issues.
Although no accurate statistics, it is believed that not less than three thousand Russians, mostly from the Muslim republics of the country — went to the middle East to fight alongside extremist Islamist groups. Experts on security believe that this has led to a significant reduction of tension in the country, although the question of what happens when they return to Russia, was always acute.
"What happened in St. Petersburg, casts doubt on the effectiveness of this strategy of destruction of our terrorists in Syria "on distant approaches" to our own country, says Goltz. — It is now clear that this strategy doesn't work."

The solidarity of the Russians
It seems that to hold such a link ready a few of the average Russian.
"I'm terribly sorry for these people in Saint-Petersburg, — tells Nadezhda Mamonova, employee Moscow office. — Do I blame this on Muslims? Not really. But I do not exclude that this may have something to do with our participation in the war in Syria."
Moscow pensioner Nina Moreev said that anyone in particular she blames, and thinks that "the reason for this is the General situation in the world."
The attack in Saint-Petersburg has been the usual wave of public shock, outrage and grief, as well as the striking social solidarity.
Russian media write a lot about this solidarity, when all witnessed as many people rushed to the scene to give victims the help and support. The ability of the Russians to the impulsive act of kindness and generosity known to all who lived and live around them. But this generosity is enhanced through the social networks has been demonstrated, when local residents opened the victims door of their houses, drink tea, showed sympathy and gave people a chance to calm down, "holding hands and patting our cat". Taxi service Uber has organized free transportation throughout the day, and many ordinary St. Petersburg residents gathered on the scene and transported the shocked and frightened victims home.

Echoes Of Chechnya
Over the past two decades, terrorist attacks with a large number of casualties happened in Russia many times. A terrible wave of terrorist attacks has engulfed Central Russia since 1999 — just at the time when the new government under the leadership of Vladimir Putin started a war to conquer Chechnya, the North Caucasus Republic, which is mostly under the control of Islamic extremists. Thousands of people were killed in series of attacks, which were organized mainly Chechen fighters. The culmination of this violence have become somewhat eerily similar bombings in the Moscow metro seven years ago.
After a long and extremely brutal war Chechnya was pacified, and the power in Republic has passed to local Pro-Russian leader, imperious and despotic, Ramzan Kadyrov, who is holding back the extremism and more — is suppressing dissent in all its forms.
Relative calm was maintained (with rare exceptions) for several years. Russia's intervention in the Syrian conflict in September 2015 has caused some concern and bad feeling from those who remember the ill-fated war waged by the Soviet Union in Afghanistan. And in Egypt over the Sinai Peninsula was blown up a plane full of Russian tourists. But major attacks such as those committed by Islamic militants or imitating them loners in Western countries fighting in the middle East — for example, in the US, UK and France during this time was not.
It is possible that this lull ends. And yet, it seems, there is little doubt that the Russians, accustomed to endure hardships, will take it in their stride, as they have repeatedly done before, says Alexei Grazhdankin, Deputy Director of "Levada-Center", Russia's only independent organization dedicated to sociological research.
It is still too early to carry out some surveys and surveys after the terrorist attack in St. Petersburg, he said, "but the public reaction is likely to be the same as before — the government needs to act tougher and to exercise strict control and all of these measures should be supported. Of course, the situation is quite different now. Before people linked the terrorist attacks with the terrorists from the North Caucasus. Now before us — the figure of the international terrorist, which seems more abstract."
Comments
comments