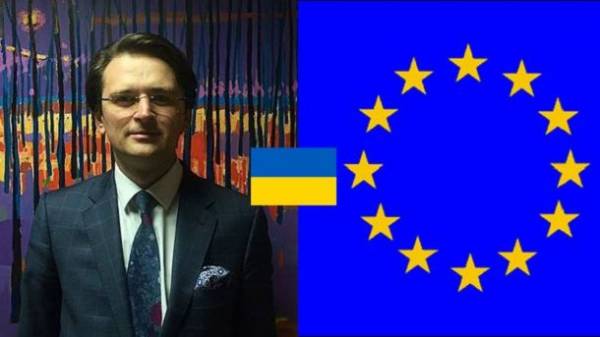 A US strike on Syria strengthens the position of Ukraine in confrontation with Russia. Such an opinion in his blog on "Ukrainian truth" stated by the permanent representative of Ukraine to the Council of Europe Dmitry Kuleba.
"The willingness of trump (President of the United States. – Ed.) to sudden acts means for us a whole new spectrum of opportunities and responsibilities. Convinced that the United States will remain committed to the Minsk agreements, but now the chances of increasing the level of assistance to Ukraine in the security sector increase significantly", – he wrote.
Dmitry Kuleba also calling on Ukraine's leaders to draw their own conclusions from this situation. "The government, which after years of peaceful policy of Barack Obama, maybe a slight movement to start combat "Tomahawks" will not be burdened with sentimentality, if necessary, use a softer, but no less powerful forces anywhere in the world if something goes wrong. And this is a direct message to our politicians and the informal arbiters of Ukrainians", – said the diplomat.
In his view, the unity of Ukraine, the reforms and stringent security policy is the key not only to survival but also to win in the cruel world.
Recall that the US Navy ships stationed in the Mediterranean sea, struck by Tomahawk missiles at air base by Syrian government forces on 7 April.
In all there were more than 50 rockets that were aimed at the runway, and aircraft Parking and refueling facilities.
The operation was carried out by order of the President of Donald trump in response to a chemical attack in Idlib. As explained trump, a military strike was inflicted on the airfield, where they had carried out a chemical attack.
Pentagon spokesman Jeff Davis said that the United States has warned the Russian military personnel in Syria that the airbase shirt in the province of HOMS will be dealt a missile strike.
Recall that hundreds of Syrians died from the chemical weapons (presumably sarin gas) – after the bombing sites of the Syrian armed opposition in Idlib town of Khan shaykhun was covered with a poisonous cloud. According to eyewitnesses, people were dying from suffocation, many lying on the ground motionless, the other was observed vomiting and was frothing at the mouth.
Comments
comments