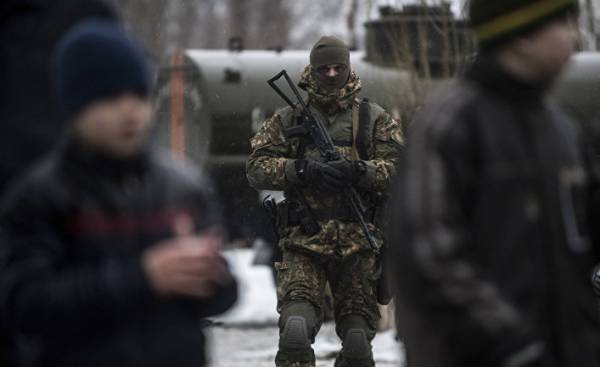 On the outskirts of the Town rises the black smoke. The fire continues to smolder. Wander through the ruins of two old men. Previously, there stood their home. The night he was hit by artillery shells launched from the so-called Donetsk people's Republic.
"Shot seems to be far away, but just in case I went down to the basement, and then — a moment, an explosion and… the house was gone," says the woman. Her name is Natalia, she had lived here for more than 70 years. "Survived a couple of tablespoons, no more, although they are black, I don't know whether to wash them," she sighs, helplessly relying on the only surviving wall and peering into the ruins. Her husband gently shifts the smoldering boards. "I had to run out. We all life will not run, as during these three years of war," he smiles bitterly.
"I had three cats, so beautiful. Maru-u-UNL, Basia, Musica! — calling the old woman quietly and looks around. — Previously, they would always come over when I called them… Afraid that they've killed," her eyes fill with tears.
Natalia's husband comes to the matter from the practical side. "The worst thing that's missing chickens and pigeons. Because of the war prices are going up, on a pension it is impossible to live, so we sold eggs. Part pigeons probably escaped hens were 40 pieces, and I see only six," he says a handful of harvesting to each other and lethargic birds. The option of leaving the Town, he is not considered even now. "Where do we go if we've lived here your whole life?" The elderly are surrounded by journalists. They ask, you know those Russian missiles that destroyed their house, prohibited by the accords. No, they only know that I lost my house.
Not like in the movies
Two boys in jackets playing ball next to the Playground. They don't notice that running around in the mud, and the surrounding houses, broken glass, don't hear that sound in the distance shots. Vanya and Dima — 11-year-old twins. They explain to me that night in the boiler room at their school, a shell fell, so school was canceled. "Well, that don't have classes, although it is a pity that because of the war," they rejoice.
I ask whether they are not afraid to go outside. The boys did not immediately understand my question. After spending three years at the frontline, they are accustomed to danger. Shots became an everyday phenomenon as dogs barking or car horns. "But, to be afraid, because they shoot? This far, the military — they are responsible, meaning the next Ukrainian position that bombs fall. Is this caliber that will fly to us, — they assure with knowledge of the matter. — When I start shooting closer, we hide. Sometimes to go out is scary, but to sit at home, too terrible, terrible is boring."
The boys surprised some adult asks them questions about the war. "The war… Well, I imagined it differently — thinks Ivan. — Like in the movies. I didn't know when the war, no light, therefore it is impossible to turn on the computer. This is probably the worst. And yet, everyone is leaving," he adds. Before the war the town was almost 40 thousand inhabitants. This number has now halved. "We would have left, too, but all relatives live here, so we have nowhere to move". "And you know who is fighting in this war?" — I ask. "Adult" — emphatically answer and they run off to play ball.
We have no chance
"Yes, I imagined that would be different. I thought people in the war might have something to change, but here is impotence. War is arranged so that it leads policy, and we are at war. President Poroshenko could not something to negotiate with Putin, and they're shooting at us from tanks. Negotiations "channel four" in some Hamburg stronger change events on the front than the way we're fighting," says brown-eyed boy in khaki. This eighteen-year-old Kohl. We sit in a trench at a position a few hundred meters from the occupied territory of the separatists. Kohl says that a year ago he quit school and signed a contract in the army. He told my parents I went to war only after it had killed his friend.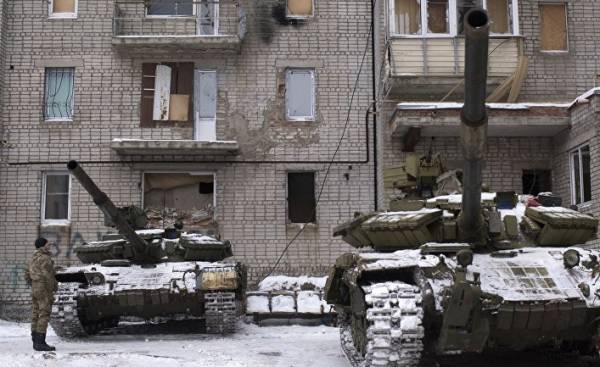 © AP Photo Evgeniy MaloletkaТанки APU Avdeevka, Ukraine. 2 Feb 2017
"I drank coffee with him, and after 10 minutes he was dead — he said with feigned calm, taking the posture of a man who knows all about death. Then I realized that parents need to know where I am, just in case… So I called my mom and admitted that I'm not in Kiev, and Donetsk. Parents are not surprised.
In the end, they raised me. And I realized that we have no chance. If on the opposite side fought the real separatists, that is, the local rebels, we would have recaptured the whole of the Donbass for a month. The chances would be equal. But there are in fact professionals from the Russian army, some of them even have been to Chechnya. We know who there fighting, they are constantly making a video and upload it into the network "Vkontakte". However, nobody hides: against us put the 1st army corps, DNR, and he reports directly to Russian generals. — Nick corrects not the size of a large helmet, which slides down over his eyes. — At any moment they can throw at us more Russian troops to begin the invasion, and then all. But what do we do? If we surrender the town, then have to give the next town in the Donetsk region, and after that is my hometown the Dnieper. So we are at war, although, perhaps, we've no chance. I'm having nightmares. And then I Wake up here. Don't know what's worse: a dream or reality".
Not fired
"You know why they're shooting at us from Donetsk?— asked an elderly woman standing at the local hospital. — Because we brought the Ukrainian military! While they were gone, there was no attacks!" "No soldiers, no war…" — sighed the medic, who went outside to smoke.
"What about us?— indignant old woman. All local residents are willing to give the city to Russia, not fired. I don't want my grandchildren doing homework, sitting in the basement and shining on a notebook by flashlight. Three years under the bombs, three years without electricity and water. We do not want either Russia or Ukraine, we want to live!"
The city shudders from a series of explosions. In a moment at the hospital with a screech of brakes stops a military ambulance. Ukrainian military help to get out of it teenager. They have to support it, it seems that he is ready at any moment to fall. The second boy was carried to a stretcher. He moans softly. Behind him is a weeping black-haired woman. "There you are! Someone asked who we are, for Russia or for Ukraine?" — hisses the old woman.
We caught up with here war
"The eldest son was sitting there at the computer, dark — eyed middle-aged man shows at some point among the ruins. Junior was in his room. It shows a pile of rubble from the upper floors fell on the sofa. Three years ago, made repairs…" he repeats, as if not believing his own words and the strokes of the victims of the explosion white Wallpaper blue flower. From his fifteen-storey apartment in the house there were only the living room and kitchen. Then a huge gaping hole on three floors.
Then he comes and speaks to journalists, photographing ruins: "Sorry, my name is Telman. You're my guests, maybe have some tea?" — he insists. He takes a Cup of Turkish tea in his covered with plaster the kitchen and says that his family came from Azerbaijan 30 years ago. "We fled from the war. But the war caught up with us here, I have no more strength to run," he says.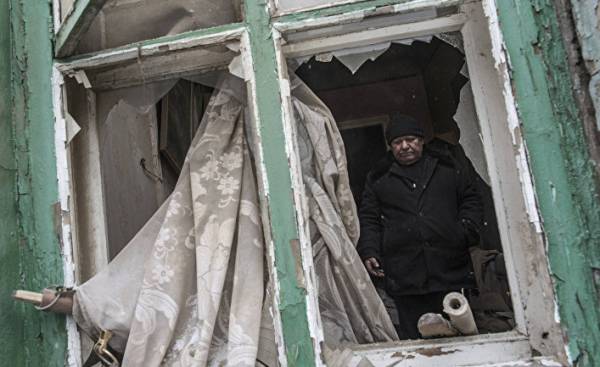 © AP Photo Evgeniy MaloletkaМужчина in his house, damaged by shelling
I ask what his plans for the future. He's going to stay in the town because he has nowhere to go. "Well, the wife is in the hospital, to her return at least I will impose a little order," says Telman, although the apartment will not help nor cleaning, nor new repair. It is likely to be rebuilt.
Into the kitchen, limping, comes the thin man on crutches. Leg amputated at the thigh. "This Is Vitaly. The leg he lost in Afghanistan, the war caught up and it," is the host of the guest.
Vitaly holds a passport and a crumpled banknote of 200 hryvnia. This is the only money he had left. "You wonder how I've survived? I reveal the secret, he says, a conspiratorial whisper. — In the Donbas is a war between good and evil. Tanks and artillery is a weapon of the devil. And here is my icon — he pulls from his pocket a gold plated image on a piece of paper. When everything collapsed, it was in front of me. Gun will melt the earth, but not human souls. The same thing I felt in Afghanistan. People did not know anything about deaf Afghan village, and now nobody knows where is the item. From people wait for help is useless. We are left with only icons."
Save
Comments
comments