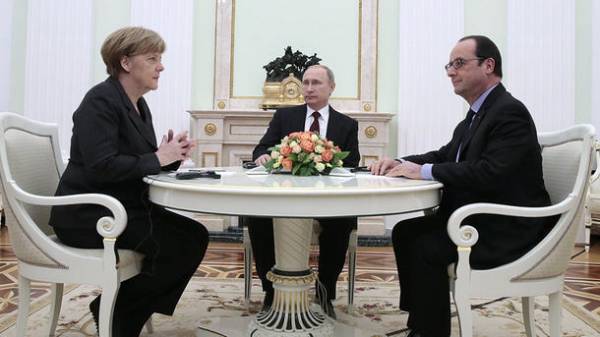 The President of Russia Vladimir Putin held a telephone conversation with German Chancellor Angela Merkel and French counterpart Francois Hollande, the press service of the Kremlin.
French and German policy in the first place, expressed his deep condolences in connection with terrorist attack in the subway of St. Petersburg.
The leaders agreed that the need to increase cooperation in the fight against terrorism and agreed to share information through intelligence agencies.
The main topic of the talks was the "Ukrainian question". When discussing the current situation in the South-East of Ukraine, attention was paid to the need of ensuring of the regime of silence at the forefront, and also focuses on the withdrawal of heavy weapons and withdrawal of forces and means of the parties.
Putin himself said that we need to start work on implementing the political aspects of the Minsk agreements.
As reported, Vladimir Putin urged Ukraine to withdraw the transport blockade of Donbass, which is controlled by Pro-Russian militants from the so-called "DPR/LPR".
Comments
comments