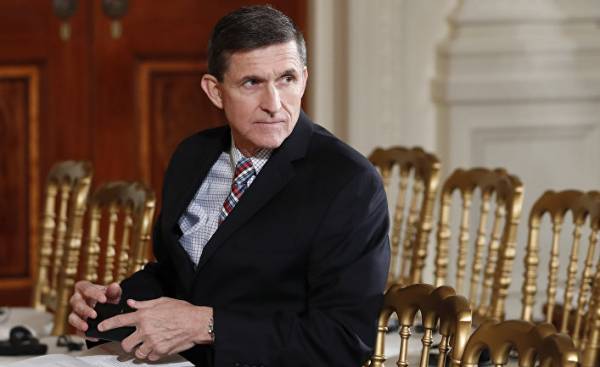 Michael Flynn, former national security Advisor to the US has not reported the payments received from the Russian state television company and other firms with Russian ties under the initial disclosure of its financial information. This is stated in the new documents released by the White house.
Flynn received a total of $ 1.3 million.
The documents released on April 1, Flynn signed on Mar 31, list his performances in Russian organizations, including the state TV channel RT, and the airline "Volga-Dnepr". In the disclosed information does not say how much Flynn was paid for the speech, but they are listed in the category of "sources of compensation in excess of $ 5,000 per year." In the information released earlier signed Flynn on February 11, does not mention payments in the three performances that made him a Russian company.
Statements, which Flynn presented the 11th of February, a few days before he resigned, was only an initial draft, which contained information on the amounts of fees received,without a breakdown by source; for more details, presumably, would be made later in the course of routine inspections of documents by the auditors of the White house and independent agencies for the supervision of financial ethics of members of the Executive branch of government.
In the detailed form of reporting Flynn also pointed out 10 thousand dollars received for presentation to the representatives of the Turkish Diaspora in the United States. Prior to joining the White house the retired General had provided lobbying services to the company in the Netherlands, setting in the West the interests of the government in Ankara.
Payments from the RT became known in an indirect way. Member of the house of representatives Elijah Cummings (Democrat from Maryland) on March 16 released the documents in which it was reported that Flynn was paid by Russian companies more than 67 thousand dollars before the presidential elections in the United States, including 33 from $ 750 RT. Cummings argued that the adoption of the Flynn payments from RT has violated the provision on remuneration of the U.S. Constitution, which prohibits retired military officers to accept gifts from foreign powers.
Flynn was fired by US President Donald trump with the post of national security adviser on February 13 after 24 days of operation. Trump said that the dismissal was because Flynn had lied to the Vice-President Mike Pence about his talks with the Russian Ambassador to the United States in the period of transition to presidential power.
Latest discrepancies in the income statements related to Russia, can potentially serve to accusations Flynn. He remains under close supervision in relation to their contacts with Russian officials in several individual cases of investigation of Russian interference in presidential elections in 2016 in the United States. Through his lawyer Flynn March 30, expressed willingness to testify before the intelligence committees of the house of representatives and the Senate, if he is granted immunity from prosecution.
Comments
comments