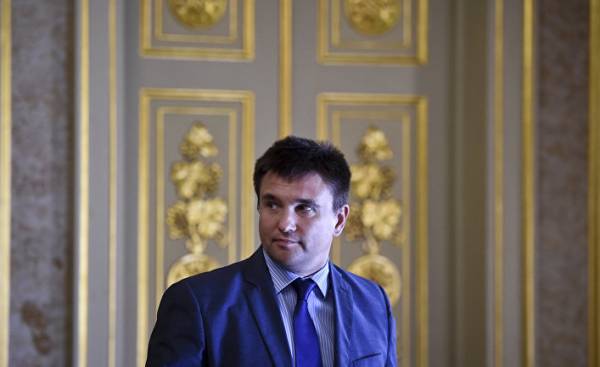 "112": MPs consolidated legislatively the policy of NATO. How important is it?
Pavlo Klimkin: We have set another pointer and go on the path of NATO membership. NATO is the only security system that is based not simply on interests, and values. I'm pretty sure we're already starting to work as an element of the Eastern flank of NATO. This is evident in the sense of those teachings, which we spend together with our allies, it is gradually what we do in the context of achieving NATO standards. By the way, at the Warsaw NATO summit, which was recently, we have clearly decided that until the 20th year, we will achieve all standards in the field of security and defence dimension. Attainable standards are gradually working, but now all of the allies are well aware that Ukraine can make a unique contribution to safety, because everybody understood what we did during these three years, what the army is built, what the security sector was built here. And proved that we can fight for ourselves, for freedom and thus fight for values. A value — this means, of course, NATO. And I'm sure we'll go in this to the end will be successful, and NATO, too, will go to the end.
— Will NATO look at the 5th article of the Charter? Not whether they are willing to lend a hand and risk their lives for us?
— What's the problem with the fifth article? But we also will lend our shoulder, and we have substituted a shoulder to the whole of Europe and the Alliance. And they know it. They understand everything that happens, because what happens to us, it's not just the Russian aggression is the collapse of the Empire, which never will exist. In Moscow can neither imagine nor to go further in the sense to admit that the Empire is no more. And NATO is the only security system is based on are values. So it will work on.
Whether they want all 29 States of the Alliance to engage in armed confrontation with Russia? How will react NATO States and the States West to a bill passed in Parliament?
— In 90-e years have said that will be in NATO, several countries — Poland, Hungary, the Czech Republic, and others will wait a very long time. Then there was the second wave, and everyone started to say that the second wave can be, but the Balkans is certainly not. Let's see what happens now: the last case of Montenegro. For me it is a very simple matter — you need to do something and believe in it. Of course, this definitely will. As for the second question, we are all clear that article 5 applies to all allies. I believe that in this world there is actually very difficult from the point of view of the challenges that article 5, including Ukraine, would be for the allies is even more important. The determination of the allies to perform in the future the 5th article will be more than even today. And the discussions always lead to some solutions, as a rule, very good. Why do you think that tomorrow everything will be like today, what do NATO and the transatlantic community will not be able to do what needs to be done and actually ensure their safety. As a rule, we're talking about nuclear umbrella — but it's not the only umbrella. There are many umbrellas and what is happening now — the hybrid war of Russia against Ukraine, we can give in this sense very much. In our understanding. What is happening at the Yavoriv training ground is a co-educational. We teach our friends, and they teach us. And it will go further.
— What future to expect of our entry into NATO?
— I am sure that this integration is possible. And she is the only one possible for Ukraine, and for NATO. This will happen in the foreseeable future. I would like us to NATO standards reached in the short term, but we understand that all efforts that relate to everything from the development of our armed forces and the defence sector to the entire security sector. This requires very substantial financial resources, restructuring and profound reforms. Part of the way of course we passed, but to say that we will reach NATO standards, probation, tomorrow or the day after tomorrow is, of course, is not a reflection of reality. But I believe, and if you want, that's my political statement will be in NATO faster than many now believe nothing, in principle, I think. When we started negotiations on an Association agreement or, for example, Bezvadu, many of my colleagues, even in the EU, told me that, of course, we started it, it will continue and then we'll see in the future. And now we have it all. So my perspective is very simple — it's not a matter of decades (as sometimes said), is not a matter of some abstract future. But in order for that to happen, you must do what you must. And it's not just the security and defense sector. It's everything that is connected with an established democracy and rule of law. That is, should come with all the standards available in this sense NATO. If you look at our programme of cooperation with NATO, where military policy and security constitute a very substantial part, but not really substantive, since it must go all the way of reforms. The faster you do the faster you will go further. But when people start talking that "the conflict is there, there will not be 5-the article won't work" — kind of talk was too much. There were many of them in the nineties, and there were many of them in relation to other NATO countries. But, nevertheless, NATO is a unique structure, the only effective today. And it works. And Ukraine without NATO, without these "umbrellas" and NATO without Ukraine is not our function.
— Tell us about the prospects of the Minsk group and the prospects of meeting in the "Normandy format"?
— In the framework of the Minsk group can be solved practical issues, but the big questions of political values is another reality. We are well aware that if it were not for the "Normandy format", today we could be in a completely different situation. Now there are very intensive consultations with our German and French friends. I just recently spoke with the new Minister of foreign Affairs of France — we plan on meeting in the near future. It is not excluded that it will occur at the same time a tripartite meeting with the German Minister of foreign Affairs. The President is also in very close contact, and I think that in the near future he will meet with French President E. Macron, because before you move you need to achieve a perfect coordination between the three of us. But understand that without commitment the United States is decisive progress to reach us is extremely difficult. The United States can work in parallel to the "channel format", and it's always been in very close coordination. I discussed this matter during his recent visit to Washington, and when we met in Brussels and your credit card is very detailed meeting with Tillerson. They are now determined — or to work in parallel format with elements of close coordination, both involving some elements of "Norman format", or it will be some other things to do. Unfortunately, all without the approval of our friends can not say. But 100% say that we are, indeed, in real-time. There are very creative solutions that may be in the near future you will hear. On these decisions we work. But let's be honest ourselves – Moscow will not stop. For her design of the occupied Donbass or protectorate is crucial, but not because she is interested in the Donbas, but because she wants to destroy our Ukrainian project, as a European and democratic, as in the case of our success, of course, no chance the Russian draft no. It's all perfectly clear, and I very much hope that it is understandable and also Moscow. So we are now working. One way is to try to achieve real security. And I mean not only the ceasefire, but the strengthening of the OSCE (without the OSCE there will be nothing). Moreover, the OSCE needs to monitor the entire territory of Donbas and uncontrolled border.
— The OSCE should be given weapons?
— Of course! Of course, you need. The only question is, does the weapon special monitoring mission — it needs to change its mandate, or do we need another mission. I believe that we need armed police mission, and we're working on it. We head of the OSCE mission G. S. Kurtz is very in detail discussed this issue. Russia while blocks and blocks in General a sequence of steps to implement the Minsk agreements. But without this armed mission will be to disarm all that there is? Who will keep weapons? It is what will stand in the middle of a field somewhere, without control? Or who will control the uncontrolled part of the border? Who will be responsible for security in the transition period? We now start to prepare the elections, when there is Russia headed? That's why we need the international element. The meeting then you can add other elements — it may be EU, but without this feature along is not necessarily going.
— When you met with trump, you feel that there is a desire to engage?
— 100%. When we got up in the oval office with Vice-President M. Pence, trump just finished a short conversation. We stopped for 5-7 seconds, he lifted his head and said, "come in, Come in". And immediately after this warm welcome we started to talk about substance. He asked me how the situation, the score, which can be further option. I he described it. The atmosphere of this meeting was indeed very creative. As Vice-President. The atmosphere and the desire to engage in order to make progress, it's definitely, 101%, it is.
— Can we afford to blackmail the Western countries return to themselves the right to be a nuclear state? Can you confirm that the US is preparing to hold hearings in Congress about the spending of donor funds?
— On the first question, I personally believe that we need to get under the nuclear umbrella of NATO. It will be the best option. Blackmail — I don't really like that word. I like to convince. And in this sense we do not just do and do it not only in the context of Budapest, but in very many, very important things. I believe that our scientific, intellectual potential can allow us to do a lot. But not necessarily it should be just nuclear weapons. Symmetric responses actually passed. We see it very well. Let's turn to the answers that can work. We understand that hybrid threats are many. Some of them economic, some of them — cybersecurity. Let's do that effectively. A nuclear umbrella will get in the framework of NATO. As for the second question, American aid was the most effective among all. I like a man who believes in European integration, I believe that American aid in some cases was more effective than the European. The police that we see on the streets, the system of the fight against corruption, NABOO in particular is due to what kind of help did this happen? That is, the procedures working in the US (and I know these procedures are a good idea), clearly allows you to control how consumed any donor, grant or other assistance. Any audit of this assistance will clearly show you how it all happened. The last time I'm with someone just met in the US — absolutely everyone. The idea that donor assistance was spent not how she would have to spend money, never heard.
— The visa regime for Russian citizens — we have the ability to do this?
— In fact, we put this question is absolutely wrong. I believe that even the introduction of visa regime in the context of control of who comes from Russia, we know very little. We have to introduce biometric passports, but then — else and control those who come. This means announcing trips, and it can be done quite effectively on the Internet. But let us clearly understand what we have. We understand — we have a war, there is the collapse of the Empire, but almost 3 million Ukrainians are in Russia — 7-8%. And at the same time must understand that our citizens who are in the territory of temporarily occupied Crimea? What Russia will do in the sense to limit these contacts? So, the answer is definitely Yes. But this is a question that need to be resolved in time, and from the point of view of these procedures based on a clear approach and understanding of how Russia will try to kill our citizens to be involved, some sure, Russian citizenship. This is, by far, must be prevented. And procedures — Ministry of foreign Affairs, will do. Prepare, have the relevant experience. So for the foreign Ministry in this regard do not worry.

— Thank you.
Comments
comments