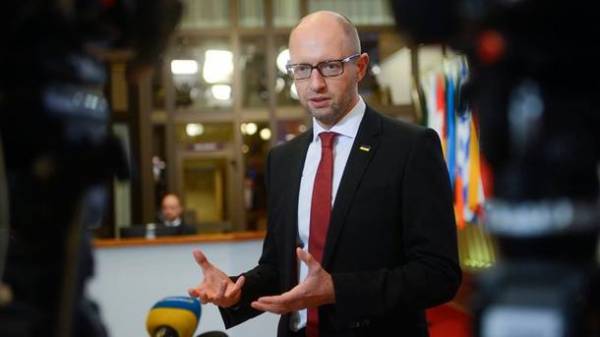 The head of the party "people's front", former Prime Minister of Ukraine Arseniy Yatsenyuk filed e-return for 2016, which has declared more than $1 million, 4 million UAH in banks, $475 million, 300 thousand UAH of cash, collection of paintings, coins, books and trademark rights Arseny (Arseny original).
According to e-Declaration, Arseniy Yatsenyuk owns land in Novi Petrivtsi (Kyiv region) has an area of 3 thousand 031 sqm residential house in the same area 343,5 sq. m, two apartments in Kiev area: 83,35 sq m 224,9 square meters, the third apartment in Chernivtsi with a total area of 104,9 sq. m, garden (suburban) house with an area of 114.5 sq m in Novi Petrivtsi, cars in Kiev with an area of 13,4 sq. m.
The wife of former Prime Minister tereziya Yatsenyuk declared the free use of her mother's apartment in Kiev area 185,2 sq m and use the loan from the mother of the head of the "popular front" Yatsenyuk Maria non-residential premises in Kiev with an area of 172.5 sq. m.
Yatsenyuk declared valuable personal property: hunting rifle, Blazer, collection of 10 paintings by Ukrainian and foreign artists, a collection of Ukrainian and foreign coins from non-Bank and Bank metals, watches Breguet, a library of ancient and modern books of Ukrainian and foreign publications of different authors, antique mantel clock with candle holders (2 sets).
His wife declared set of women's jewelry 5 pieces, the watch Winston.
The Prime Minister has the ex Mercedes S 2010 release (for 610 thousand UAH), rent a car Toyota Sequoia 2010 release, and his wife a Range Rover Sport 2012 model year (828 229 thousand UAH).
Yatsenyuk has 100 war bonds with a nominal value of 100 thousand UAH 192, share 6,045% "Chernivtsi plant of reinforced concrete products and structures".
He also has the rights to the book "Banking secrecy since the Orange revolution" and the number of brands and commercial names: the Union of democratic forces, SDS, demokratichna Union forces, the Front for change, FZ, FP, Arseniy Yatsenyuk, the Bloc of Arseniy Yatsenyuk, last course, a New course into the future SMN, SMN his future.
For the post of Prime Minister in 2016, Yatseniuk received wages in the amount of 117 thousand UAH 598, he also received a cent in "Oshchadbank" in the amount of 5 thousand UAH 201, "Raiffeisen Bank Aval" – 37 thousand 252 UAH, "Fortuna-Bank" – 1 million 463 thousand 832 UAH, the income from the rental of property to rent in the amount of 600 thousand UAH.
Tereziya Yatsenyuk declared the income from business activities in the amount of 1 076 million 210 thousand UAH. interest in the "International investment Bank" – 320 thousand UAH 547
The former Prime Minister has on Deposit in the "Oshchadbank" $500 thousand in "Raiffeisen Bank Aval" is the $64 thousand 703 "Bank Forum" – 3 million 578 thousand 885 UAH, "Fortuna-Bank" – $486 thousand 909, 590 147 thousand UAH. In addition, the $475 thousand, 300 thousand UAH declared in cash.
Yatsenyuk has on Deposit in the "International investment Bank" – $141 420 thousand and UAH 15, "Fortuna-Bank" – 10 UAH 951 thousand and 130 thousand UAH and EUR180 thousand in cash.
Yatsenyuk also declared that the preliminary contract (the option) to purchase the corporate rights with Larissa Knjazhichi (wife of people's Deputy from "popular Front" Nicholas Knyazhytsky) the amount of 3 million 788,7 thousand UAH.
Comments
comments