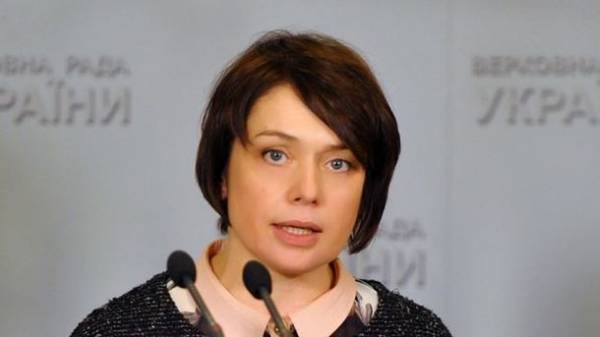 The Minister of education and science of Ukraine Liliya Hrynevych filed electronically for the year 2016, which declared nearly 287 thousand UAH wages and almost 229 thousand UAH on deposits in banking institutions.
According to e-Declaration, Grinevich owns an apartment in Kiev area of 83,4 sq. m (bought the mortgage in June 2015 for 1 million 012 thousand 440 UAH), land in Borodyansky district of Kyiv region with an area of 1 196 thousand sq. m, a share (25%) apartment in Kiev with a total area of 102.7 sq. m, in which the share is still 25% owned by the husband of a Minister Mikhail Grinevich and her son Bogdan-Orest Grinevich. Also wife of a Minister owns a plot of land in a Large Snitynka Fastiv district, Kyiv region area of 1.2 thousand sq. m.
The Minister of education has the Nissan Tiida 2008 model year and Treasury bonds of Ukraine in the amount of 1 thousand UAH.
Grinevich declared that in 2016 the salary in the amount of 867 286 thousand UAH, the income from teaching at the Kiev University named after Boris Grinchenko in the amount of 38 thousand UAH 384, income research management consulting agreement of December 1, 2015 with "the International Fund of educational policy studies" in the amount of 8 thousand UAH 535, funds from the Deposit in the Bank "Khreschatik" – 37 308 thousand UAH, payment of the cost of travel – 3 683 thousand UAH and costs associated with the implementation of parliamentary powers in the amount of 80 thousand UAH 559. her husband is a salary in the amount of 135 thousand UAH 108, money deposited in the Bank "Khreschatik" – 38 thousand UAH 483.
The Minister of education pointed out in an e-Declaration $17 thousand of cash, UAH 200 thousand on Deposit at the Bank "Khreschatyk", 28 thousand UAH 818 and EUR269 – in "Oshchadbank", and her husband – $13 thousand in cash and 220 thousand UAH on deposits in the Bank "Khreschatyk".
Also Grinevich in the surety of her husband secured an apartment in 2014, took the credit in "Oshchadbank" in the amount of 708 708 thousand UAH, paying 84 thousand UAH 923 interest on the loan and 35 thousand UAH 232 on account of the principal amount of the loan.
Grinevich a part-time Professor at the University B. Grinchenko.
Comments
comments