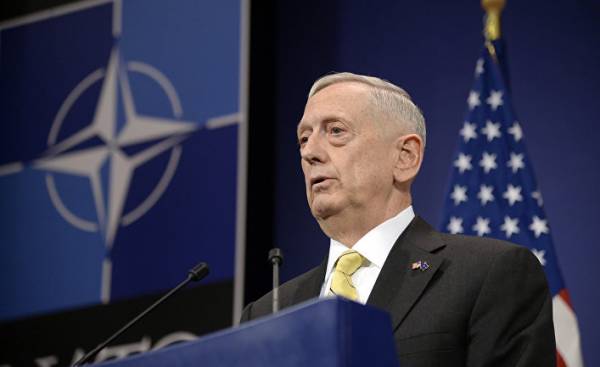 Pentagon chief James Mattis said that the U.S. is concerned about Russia's presence in Afghanistan and vzaimodeistviem Moscow with the Taliban.
"We have seen Russian activity against the Taliban (not a terrorist organization — approx.ed)," said Mattis during a press conference in London.
Mattis stressed that we are not talking "about guns and other such things", however, the activity of Russia in Afghanistan is worrisome, especially in light of the activity of Moscow in other regions.
As noted by the head of the Pentagon, he has not yet decided whether to recommend to increase the number of U.S. troops in Afghanistan in this regard.
The information that Russia started the process of rapprochement with the Taliban, periodically appears in the media as long as two and a half years ago, the region appeared extremist group "Islamic state" (banned in Russia, Britain and several other countries).
It was reported that Russia strengthens its motorized division number of 6 thousand people stationed along the Northern border of Afghanistan with Tajikistan. This is explained by the desire to prevent the penetration of both drugs, and rebellious attitudes in Central Asia.
The media speculated that Moscow could start supplying arms to the Taliban.
In February last year during a meeting with President of Afghanistan Ashraf Ghani, the presidential special representative on Afghanistan Zamir Kabulov said his country and the Taliban are supporters in the fight against ISIS and have the same views about the US.
In Afghan media fears have been expressed that the Russian-American rivalry, which manifests itself, for example, in Syria and Ukraine, can spread to war-torn Afghanistan.
In February James Mattis said that the US is currently not ready to cooperate with Russia on a military level, but are willing to cooperate politically.
Then the Pentagon said that Russia must abide by international norms, including the obligations it has assumed under the agreement with NATO.
In the words of Mattis, he almost no doubt that Russia interfered or tried to interfere in elections in democratic countries.
Comments
comments