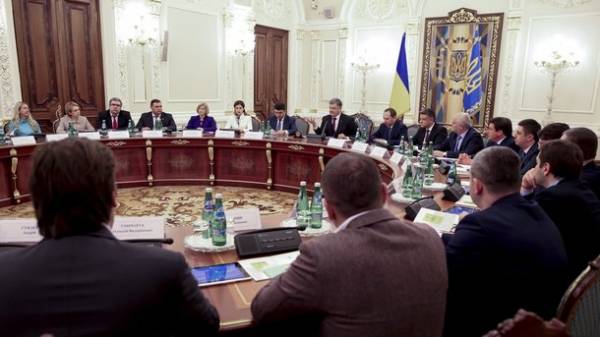 The President of Ukraine Petro Poroshenko believes that the modern secondary education in Ukraine must focus not on the accumulation of knowledge and on their practical application and implementation.
As the press service of the President of Ukraine, during a meeting of the National Council of reforms on Friday, Poroshenko stressed that the issue of quality and modern education in Ukraine – it is a matter of great responsibility and importance.
According to the President, about 10 million Ukrainian citizens are now studying in secondary school, vocational education in high school.
"The issue of education is a top priority for our state… education Reform is one of the first priorities," said Poroshenko, noting that skilled and talented people – the main capital and wealth of the state, which will make Ukraine competitive and innovative.
The head of state stressed that the basic knowledge and skills, determine future educational path, the formation of the person occurs in two institutions – the family and the school.
"Ukraine has an extensive network of schools inherited from the Soviet era. An extensive network is a plus. But certainly there are downsides. This extensive network does not meet the requirements of modern times," – said the President.
He added that in modern education the basic knowledge, taking into account the development of the world, needs to be updated. It used to happen every 50 years, then every 40, then every 30. Today it requires a certain updates in the basic science every 5-10 years. "And the old textbooks, without the use of modern interactive teaching methods, we do not we can," said the President.
Therefore, in his opinion, there is great public demand for reform, primarily secondary education. "The school has become not only a source of knowledge, but also to teach our children to learn, to think, to think, to make their own decisions. This is probably one of the most important lessons they should learn from school. I am sure that they must focus not on the accumulation of knowledge, and their practical implementation, practical application" – said Poroshenko.
The President also noted the need to ensure equal access to quality education for all children, regardless of their place of residence, social status or physical capabilities.
Comments
comments