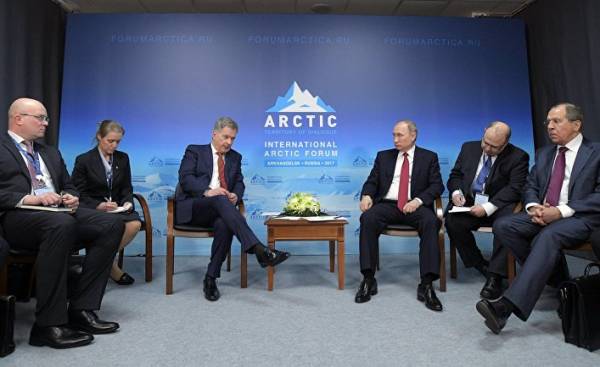 The President of Finland Sauli Niinistö (Sauli Niinistö) said on 30 March in Arkhangelsk, during its chairmanship of the Arctic Council, Finland will do its best to military tensions in the Northern regions is not increased (Finland will become the chair of the Arctic Council in may for the period from 2017 to 2019 — approx.TRANS.).
Niinistö said this at the International Arctic forum "the Arctic — territory of dialogue" in the title which stresses the importance of cooperation between the countries. President Vladimir Putin confirmed the need for peaceful dialogue, saying that Russia does not intend to conduct military operations or to compete with the US in the Arctic territories.
Cooperation between the West and Russia continues most effective in the Northern regions, but in the Arctic, things are not so smooth. For example, the commanders of the armed forces in the Arctic region has ceased to conduct the annual meeting.
The danger is that the Arctic will become a geopolitical battleground exists.
Many believe that the region itself cannot be a source of conflict, and it only reflects the problems of international relations, for example, the crisis in Ukraine or the war in Syria. However, the Arctic does have its intense aspects of the security policy.
Russia began to more closely consider Arctic issues from the point of view of national security.
The fall in oil prices on the world market has weakened Russia's interest in energy development in the Arctic. At the same time, Russia is increasingly engaged in the development of the region in the framework of the security policy.
The question was again raised on March 29, when Putin visited Franz Josef. There he instructed the Ministry of defense and the FSB to protect the national interests of Russia in the Northern territories.
Russia previously engaged in the development of the command staff of military units and military bases in the Arctic. Will be re-opened to the Northern military base and have military bases on the Islands of the Arctic ocean.
Because of the large reserves of oil and natural gas from Arctic areas remain important for Russia. This was confirmed by representatives of the influential environment of Putin, who met with Sauli Niinistö in Arkhangelsk.
Besides Putin, three of the influential Sergei wanted to talk behind closed doors with the President of the future presidency of the Arctic Council.
With Putin at his side stood the Minister of foreign Affairs of Russia Sergey Lavrov, the Minister of natural resources and ecology Sergey Donskoy and the former Minister of defence, former head of the presidential administration and the current special representative of the President of the Russian Federation on ecology and transport Minister Sergei Ivanov.
Comments
comments