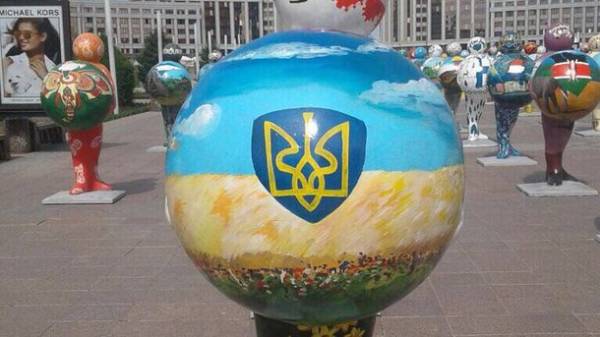 The foreign Ministry of Kazakhstan has urged not to politicize the issue of appearance at the festival Astana Art Fest map of Ukraine without Crimea, noting that the creators of the installation, perhaps the "creative" approach to the process, without going into political details. This was stated by Deputy Minister of foreign Affairs of Kazakhstan Mukhtar Tleuberdi, reports Nur.kz writes "Ukrainian truth".
"We should not politicise this incident – the installation was, but is the product of some creative team, accordingly, no intention was not political. Apparently, the artists approached creatively, not going into the political details. They admitted their guilt, sent an official appeal to the Ukrainian Embassy with an apology," he said.
We will remind, in the capital of Kazakhstan in the framework of "Astana art fest" posted 84 figures with flags and symbols different countries, however, the map of Ukraine without the Crimea. But on the map of Russia, the Peninsula appeared.
Media reported that the cards probably redrawn specially for the Russian President Vladimir Putin before his arrival in Astana.
Subsequently, the foreign Minister of Ukraine Pavlo Klimkin said that in the capital of Kazakhstan, Astana took art figure, where the map of Ukraine without the Crimea.
Comments
comments