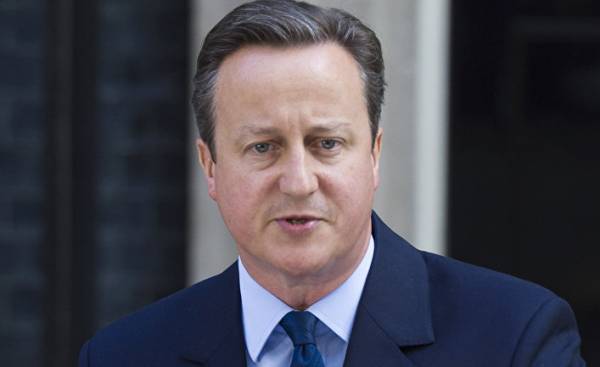 Former British Prime Minister David Cameron, which was a referendum on Brexit, and that it was worth the post, this day was in Kiev and gave a lecture to students at the invitation of the Victor Pinchuk Foundation.
Cameron said that Britain after a Brexit will not leave Ukraine alone to deal with the Russian threat. After the lecture, Cameron gave the "European truth" a short interview, which — according to the team policy was his first after retirement.
First of all he said that he still believes the decision on holding a referendum is correct.
* * * * *
I felt it right to hold a referendum on Britain's membership of the EU, as this problem over the years has poisoned the politics of the country. Referendums promised but not performed. The EU has changed, gained more powers, but people haven't asked about it. That's why I promised to hold a referendum.
And I still believe that it was right.
Of course, the result was not as I wanted, but we have to respect it. That is why today (29 March) Theresa may takes the next step, fulfilling the will of the people.
We were in the EU for practical reasons, we carried out trade and cooperation. But Britain has always fluctuated and were against the idea more and more integrated Union. We never liked the EU flag. We have our own flag, and we like our flag.
— There is a perception that Britain after leaving the EU can reduce the amount of international financial assistance, including for Ukraine.
I don't think so. It is obvious that the British government itself will make its choice, but outside the European Union we have one of the biggest aid budgets in the world.
We remain interested in assisting countries such as Ukraine, to improve governance, the judiciary, the fight against corruption.
And I believe what I was hearing from Theresa may that we will maintain our global role in this area.
— How to act Ukrainian leaders not to lose the attention of the West?
The best way to remind the West about the importance of the sovereign nature of Ukraine as a full member of the United Nations entitled to self-determination.
The second thing to do is to remind people that by investing in Ukraine, they invest in success. A country that is developing and implementing reforms could become a success story.
And third: you need examples of what has already been done: the measures taken, changes were made to give people the confidence that the success story will continue.
— In Ukraine fear that Europe for the last three years of the conflict in the Donbass was "tired". Whether the West can "forget" about Ukraine?
— There is such a danger, because in international Affairs get tired of certain problems.
But when you consider how much blood we have shed in Europe due to changes of borders through force, through violence, Europe should not forget about what happened to you. And I am sure that European leaders and the country, headed by Theresa may, Angela Merkel and Donald Tusk, care deeply about the future of Ukraine and will continue to do so.
— What is your attitude to the Minsk agreements? Are they still a good tool to settle the situation in the Donbass?
— The agreement has flaws, but it is a guidance document and contains the first two steps necessary for any peace process. This — the cease-fire and withdrawal of heavy weapons. Whatever direction we choose, we need to start with this.
— Britain after leaving the EU will continue to join the EU sanctions against Russia?
— I hope so. I don't see any reason why it should not be so.
We were a leading voice in favor of the imposition of sanctions. And I very much hope that, after Brexit, we will continue to work very closely with Europe on this issue.
— In your opinion, Europe must increase pressure on Russia? Or save the current sanctions enough?
— I think you must continue to exert pressure on Russia, while maintaining sanctions. There are countries that favor sanctions with less enthusiasm, but it is only reminiscent of how such measures are important.
— How long London is ready to maintain sanctions against Russia?
— As long as you need.
I hope that the sanctions will last for as long as necessary.
You know that the only way for Russia to achieve the lifting of sanctions — is to implement the Minsk agreements. We do not see progress in the implementation of the Minsk agreements and restoring Ukraine's control over its Eastern border. The conflict still continues. But I think the sanctions shows that the West will not tolerate such actions. And they affected the economy of Russia.
— How do you assess NATO's ability to respond to Russian hybrid threats?
— Need to do more to counter them. Recent cyber attacks were aimed at different spheres — political parties, business, the media.
I believe that Europe is too slow to react to some things. NATO should also do more.
We are capable of responding, but we need to use our opportunities.
— What specific steps NATO should take now?
Partially this should be done through closer cooperation and strategic communication. You know the problem with Russian fake news very relevant example — that sounded after the disaster Malaysian "Boeing" or the events in Eastern Ukraine.
Russian lie manages to get around the whole world, while we just put on boots.
We need to act faster, we need to collect information about what is happening and then use it strategically to communicate, to demonstrate, what are fakes made in Russia.
— In your opinion, Putin may decide to use force against the Baltic States?
— No, I don't think so. NATO boosts forces on the Eastern flank. Britain plays a significant role in this gain, headed by a new battalion in Estonia. As well as the US and France are doing in the other Baltic States.
And Russia sees the presence of the multinational forces in these countries, which is very important.
I think that the main thing now — not a problem of physical invasion, and the threat of destabilization and Subversion, hybrid wars, cyber attacks, etc.
— How do you see relations between Britain and the new US administration?
— It will be a strong Union. Theresa may did the right thing, quickly go to USA for a meeting with Donald trump. The two countries have a special relationship, I saw it with my own eyes.
Britain after leaving the EU will try to improve these relationships where possible.
Britain will consider commercial and other agreements with America.
I think we have enough influence to pass in the U.S. information on the situation in Ukraine, about Russia's ambitions in Eastern and Central Europe, and this information will be studied American friends.
— What is your opinion on the recent amendments to the Ukrainian authorities in the law on Declaration?
— I think this is a mistake. Of course, public and charitable organizations are required to explain the flow of funds and everything else, but to put them on the same level with politicians who make decisions with financial implications — I think it is wrong.
Comments
comments