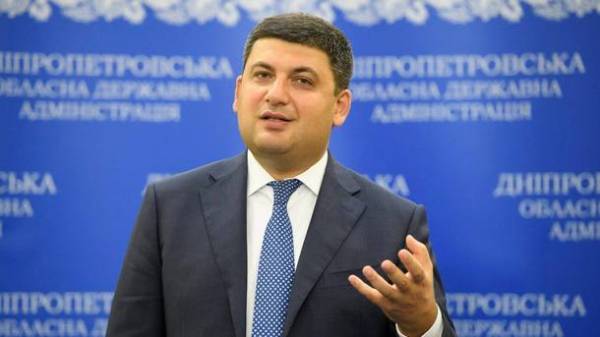 The prices charged in the privatization of energy companies in Ukraine can determine only the market. This was stated by Prime Minister of Ukraine Volodymyr Groysman in the air Dnepropetrovsk TC "Channel 34".
"Proceeds from privatization go to the state budget for many areas of funding. But that's not the point. The bottom line is that prices can be determined only by the market. It must be a public sale of these companies in order to came effective owners", – said Groisman.
He added that now "live well" Director of public companies and those "looking out" for such companies. "For the state these companies, except for strategic enterprises, they generate losses. Today, the losses from state – owned companies- 90 billion UAH", – Groisman argued the need for privatization.
The Prime Minister reminded that currently there are 3.5 thousand enterprises, which are managed inefficiently.
"You just need to give entrepreneurs the opportunity to participate in the purchase of state enterprises on the basis of which they can create a successful operating company," – said Groisman.
Recall, according to the conditions of the IMF, Ukraine needs to privatize part of the company. Including the shares of energy companies – "Dniprooblenergo" and "Dniproenergo". However, according to experts, the price of the offered blocks is overestimated. For example, estimates of investment bankers, the shares of "Donbassenergo" was going to sell 8 times more expensive than the prices at which these shares are traded on the Ukrainian exchange.
In this case the state property Fund of Ukraine (SPF) at auction on 16 August, has sold a 25% stake in Donetskoblenergo. The buyer is a member of the SCM group company Ornex.16.4 million shares (25% of the securities) of the company was sold at a price of 8.78 UAH per PC according to the Agency Interfax-Ukraine, the last transaction with shares of DTEK Donetskoblenergo on the stock market of the Ukrainian exchange (UX) recorded may 26, 2017. The price of securities following the transaction amounted to 5.9 UAH per share.
Comments
comments