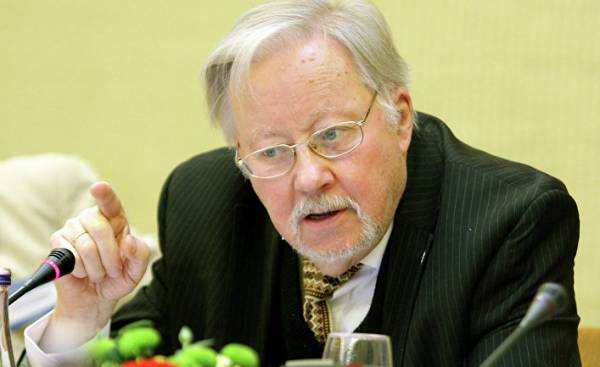 Found the original of the Act of 16 February is very important in the spiritual, moral and political meaning of news to people, said the first actual head of state of independent Lithuania Vytautas Landsbergis.
"It means a lot to us as a people and society. We as a country no one disputes due to the fact that we do not have the original of the principal act. This is not something new is very important in legal terms, but it is very important in the spiritual, moral and political sense, we won't be so miserable people, who lost their original main state document," — said Landsbergis.
"This resentment, this defect, the damage and ongoing concern, and, maybe, maybe not destroyed, it is now resolved, it's very nice, he continued. — The story is so good that it is not necessary to humiliate her reflections on that document is not in his hands. The most important thing — it is, it's confirmed, the other point we probably will explore the material document, the quality, circumstances, all that is connected with it, with a different sense — he is", — said the former head of the Supreme Council-Restoration Seimas of Lithuania.
According to him, Lithuania should try to return the original itself, but it is not necessary to force events. "We can't demand that Germany might make a very nice gesture of good will, maybe today, maybe it will happen on the occasion of the century. And if someone finds that legally, legitimately, under the Constitution, Germany could not retrieve the document from your files and pass to another state, will have to accept this as a fact," said Landsbergis.
"But I don't think there can be such severe restrictions that the authorities of the democratic, friendly Germany could not solve it. Maybe we should not get excited, do not start to demand directly from tomorrow and to Express our hope and believe that the document will be in Vilnius, where it was signed," continued the Patriarch of the conservatives.
In the diplomatic archives of Germany 29 March 2017 was discovered the original Act of independence of Lithuania of 16 February in the Lithuanian language. This information was confirmed to BNS by the University Professor. Vytautas The Great Ludus Majilis. The act 16 February — a document that was drafted and signed by Council of Lithuania, chaired by Jonas Basanavicius 16 February 1918 in Vilnius. Act in the political archive of the German foreign Ministry was kept in the group of cases entitled "the Future of the Baltic provinces of Lithuania".
Comments
comments