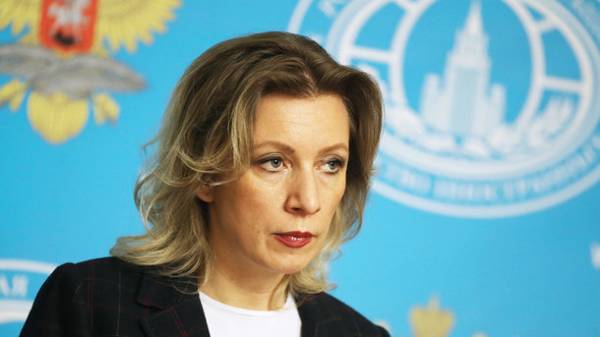 The Russian foreign Ministry suggested "to perform, who is the Ukrainian people and what his real native interests" with involvement of "international experts". This was at the briefing in Moscow said the official representative of the Russian foreign Ministry Maria Zakharova.
"Serious work is hard, painful, but the only possible in this case, correction of mistakes, over many years of mistakes, rejection of nationalism, the rejection rates for radical forces, the search for national consensus, the termination of those methods rending of society… in particular, on linguistic grounds, and really attempt to analyze the interests of Ukraine, attempt to perform, who is the Ukrainian people, what his real native interests, of who he is, how to ensure the rights of all categories of the population", – said Zakharov.
According to the spokesman of the foreign Ministry, "this was a tremendous job," which should involve "international experts."
"There is already torches and nationalist slogans will not get off. Here you need to seriously, perhaps even with the involvement of international experts from those organizations that produce international regulations on the protection of human rights, national minorities," she added.
In addition, Zakharova said that Ukraine is moving in the "path to absolute ideological collapse."
"I want to emphasize that this is not the worst of what will be, because no one puts barriers on the road to absolute ideological collapse, on the contrary, the process is gaining momentum and then people will raise questions "who is guilty" and to look for the culprits already in the Donbass, but in Kiev and major cities in neighboring houses and the like," she said.
Zakharov also emphasized that "we cannot feed the people," the external enemy and to talk about the "mythical tanks, which, apparently, through the air transfer in Ukraine" and about "agents of the Kremlin".
We will remind, earlier Russia in the Hague said that the militants in the Donbass armed with a weapon found in the mines, where it was kept since Soviet times. At the same time, the representative of the Russian Federation in court Ilya Rohachiv could not answer, where militants were the latest Russian weapons.
As you know, the hearings in the International court (the Hague Tribunal) started on 6 March, the first was made by the Ukrainian side. Ukraine has accused Russia of supporting militants in the Donbass and shelling of the Town and urged to take action against Moscow.
7 March was organized by the Russian representative of the counter-arguments to the accusations of Ukraine.
8 March, the representative of the Ukrainian side, Dr. Harold Koh has accused representatives of the Russian Federation in the "misrepresentation of laws and facts", "legal acrobatics" and assured the Court that provisional measures should enter immediately.
In turn, the Ukrainian foreign Ministry noted that the main purpose and tactics of Russia in court – accuse others of what she has to do and complicate the adoption of the court decision.
Comments
comments