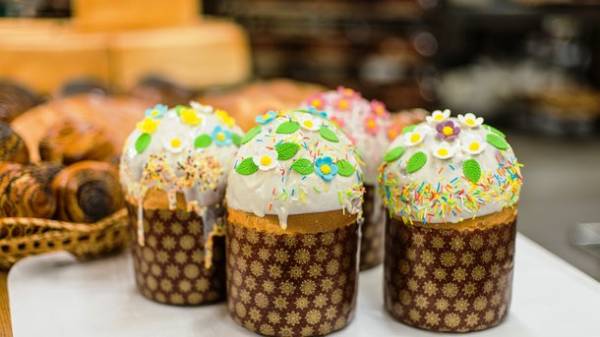 Easter is probably the most revered holiday for most Ukrainian families. Many Housewives begin to prepare, pre-purchasing products and accessories to the Easter holidays. Alas, in recent years, when incomes of Ukrainians decreased, and the price of food constantly rising, it seems that to have a family feast becomes for ordinary people unaffordable luxury. Is it really so? Is it possible to lay a lavish Easter table, leaving huge amounts of money in supermarkets? For a review of prices for the most running products for Easter we went to the supermarket Velmart at Vishnyakovskaya str, 10, to understand how much it will cost this year for an ordinary Ukrainian family.
Purchases for Easter, usually occurred two to three a trip to the supermarket or to the market. Products that you can lie down, such as eggs, flour, oil, wine, sausage, and dye for Easter eggs you can buy in advance. But for fresh meat, fish and ready Easter products it is better to come directly before the holidays to buy everything fresh. Give preference to stores that offers a wide selection of meat and fresh fish. For example, in Walmart pleased us meat showcase, in which you can find a variety of meat products from minced meat and semi-finished products to the freshest clippings at prices that are very affordable. Pleased with the price of chicken thighs – 42,99 UAH. per kg.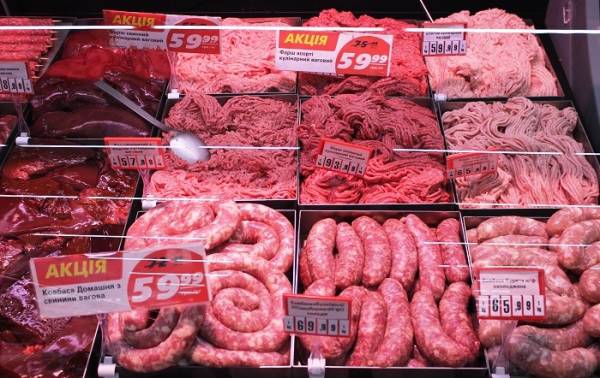 Long admired fish delicacies – from bright fresh carcasses on the white ice until frozen. We had plans to fish pie, so we were looking for fresh frozen mackerel – as it turns profitable. Found quite cheaply – 53,99 UAH. per kg. was Glad of the action on the brisket and herring in vacuum package – this product may well lie before the holiday for a few weeks and not go bad.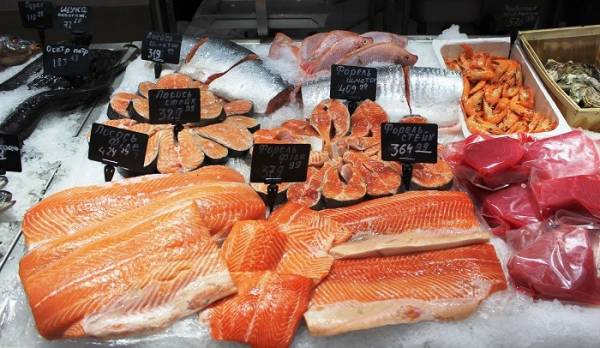 For many families traditionally with Easter begins the season of fresh vitamins – tomatoes, cucumbers and greens. Street was surprised by the prices on tomatoes – 42,99 per kg Is more than 10 UAH. cheaper than in other Metropolitan supermarkets. Pleased with a wide selection of fruit for every taste and budget – from our usual apples to the exotic – pineapple, mango, carom…
For those who because of work no time to cook in the supermarket has its own bakery where they bake bread (including unleavened), delicious scones, cakes and culinary Department , where you can buy all necessary food for all tastes – salads, side dishes, ready meals, meat and fish. By the way, the cakes baked here, with the cakes test three times. Technologist network Andrew Levashov explained to us some of the secrets of why they are the cakes tasty and so popular with consumers: "When baking we use only the best quality products. We have several types of cakes to different customers. Baking and cheap cakes of unleavened dough with raisins that are affordable to every Ukrainian (from 8.60 UAH). Are elite: they cost more (59-220 UAH.) because they use expensive products, such as condensed milk, candied fruits, almond flakes. More likely to buy them in order to sanctify the Church. All the recipes we personally check the first bake test batch, create a tasting panel. Listen to experience, listen to the advice and do another "refinement". And only if the product is like a strict Commission, launched into sale. To understand the quality of the finished Easter products is quite difficult, because they are baked in paper form and is coated with either glace icing or white fondant is a must to taste. We always give them to try to make our clients understand what to buy".
For lovers of the furnace itself here, in the supermarket, you can buy all the necessary products and ingredients at prices that are quite affordable . For example , the price of the packaging of flour (2 kg) higher cost to 16.99 UAH, and a pack of butter Selyanske 73% – 19,99 UAH for 200 G. in addition, the supermarket offers all kinds of accessories, paper and metal bakeware, plenty of toppings for all tastes and opportunities – from-colored balls to chocolate figures. Here you can choose the colors and stickers for eggs from 2 UAH. Also pleased with a huge selection of Easter decorations, which will give a festive mood.


Maybe someone will seem a trifle, but after a grueling hike we were particularly pleased that the supermarket care about their customers. Coffee machine Franke neverojatno prepare delicious coffee. Cup of delicious cappuccino will cost 17 UAH, and you can eat delicious rolls, sandwiches and even pizza that will cook in just 7 minutes.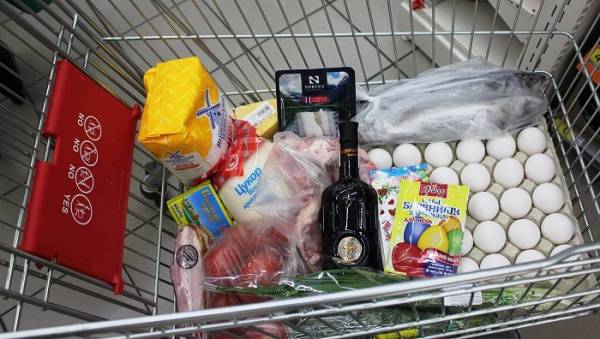 So, we got a basket of food at the most affordable cost that I could find. The list includes:
Chicken thigh 1.5 kg – 64,49 UAH.
Flour pshenychne TM "Vinnitsky CCP №2" 2 kg to 16.99 UAH.
Oil butter "Selyanske" and TM "Bahati khutir", 200 g – 19,99 UAH
Withcheese "Rosiysky" TM "Globino", 50%,200 g 24.99 UAH
Tomato, 1 kg – 42,99 UAH
Mackerel with/m 2 kg – 107,98 UAH
Fillet of herring in oil TM "Norven", 250 g – 26,99 UAH.
Brisket "Ukrainian" TM "Basinski" 600g – 53,94 UAH.
Egg 30 PCs -29,10 UAH.
Sugar, kg 15,84 UAH.
The purchase price amounted to 403, 30 UAH.
We decided to compare how much similar products cost in other supermarkets.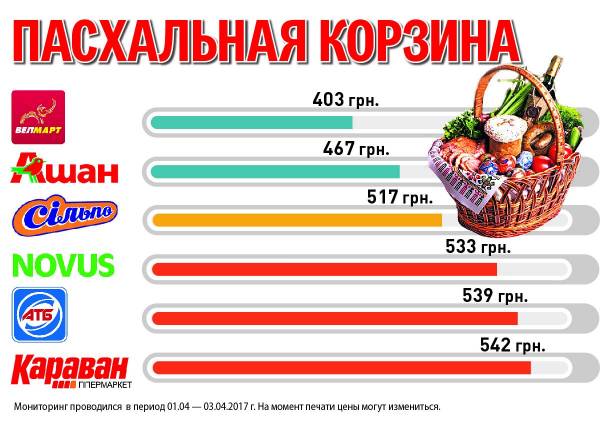 As you can see, if you look at the price tags marked "product tyzhden" you can buy everything you need for a holiday, and the coffee will remain.
Comments
comments