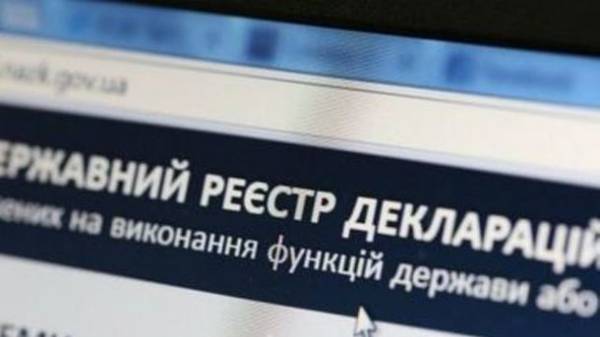 Transparency International calls on Ukrainian authorities to cancel the law on the amendments to article 3 of the law of Ukraine "On prevention of corruption" (registration number 6172) requiring representatives of public associations to submit electronic declarations.
"Transparency International and its Chapter in Ukraine call on the Ukrainian authorities to cancel the controversial amendments to the law on prevention of corruption, which are aimed at intimidation against activists in the fight against corruption", – noted human rights activists
International organizations are reminded that the law on electronic declarations were introduced to discourage corruption and allows the public to monitor the wealth of those in power, to prevent abuse.
"This has nothing to activists to combat corruption, which are not paid by the state", – stated in the message.
The Chairman of the Board of Transparency International josé Faded stated that "these new provisions should be repealed immediately. Legislators are trying to intimidate civil society and, in particular, activists in the fight against corruption".
"If these amendments will come into force, it becomes clear that Ukrainian officials are not serious about fighting corruption. This will show that they have chosen the side of those who want to suppress the movement against corruption," – added Faded.
"These amendments are a kind of revenge on the part of legislators who are unhappy with what you have to declare their assets. There is no reason for the isolation of the anti-corruption non-governmental public associations," he said.
In turn, the Executive Director of Transparency International Ukraine Yaroslav Yurchyshyn noted that non-governmental organizations are under the control of the public and donors.
"The relevant authorities check the tax and financial reports. Our annual reports are available online. These new amendments are applicable to contractors who work with us, not only complicates anti-corruption efforts, but also the lives of those people who indirectly provide support and assistance in our work", – said yurchishin.
As reported, on March 23 the Verkhovna Rada adopted the law on amendments to article 3 of the law of Ukraine "On corruption prevention" (No. 6172), which frees the troops, NCOs, petty officers and squads, Junior officers from filing e-returns and requires that representatives of public associations.
A number of representations of foreign States in Ukraine called "step back" amendments to the law on e-Declaration.
On 27 March, the Chairman of the Verkhovna Rada Andrew Parubiy was signed and sent to the President for signing this law. On the same day, the President signed the law.
Comments
comments