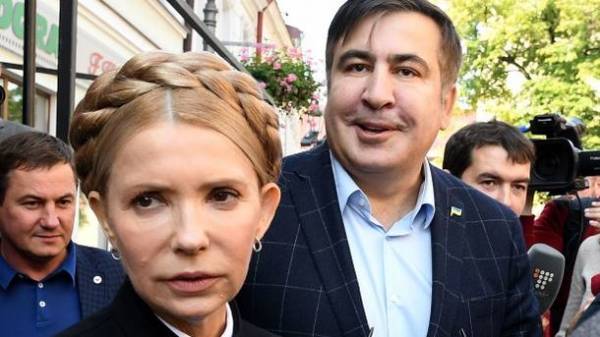 The former Governor of Odessa region Mikheil Saakashvili, the leader of "Batkivshchyna" Yulia, Tomchenko and their associates, who made a breakthrough of the Ukrainian border, should be prosecuted. This is stated in the statement of the popular front.
In the "popular front" believe that yesterday's events on the Ukrainian-Polish border is a felony.
"All, regardless of the former President (Saakashvili. – Ed.) or a former Prime Minister (Yulia Tymoshenko. – Ed.) – should be held criminally responsible for the breakthrough of the state border. As required by law and justice, which we defended on the Maidan. When the whole country over the last few years fighting for independence, freedom and its European future, a bunch of populists and touring – Saakashvili, Tymoshenko and others blindly and cynically fighting for power in the country", – is spoken in the party statement.
SEE ALSO
"It's not just a crime": the reaction of the authorities to break Saakashvili
In the political party say that to bring to responsibility all involved need to storm the border.
"We demand from law enforcement for immediate prosecution of all individuals involved in the illegal crossing of the state border of Ukraine by force, and the disarmament and arrest of gangs involved in the storming of the border and further support of Saakashvili. The deputies that were involved in the Commission of this crime, should be held accountable, and they should be removed of parliamentary immunity", – said Yatsenyuk.
SEE ALSO
Breakthrough Saakashvili in Ukraine: what he faces
As you know, September 10, at about 20:00 Saakashvili still managed to break into the territory of Ukraine, using the help of several hundred activists. The crowd, whose ranks were including people's deputies of Ukraine, broke through the ranks of guards at the checkpoint "shehyni" and had a policy in Ukraine.
In the course of events at "shehyni" injured 16 security officials. Police have opened a criminal case on the fact of breaking the boundaries of Saakashvili 332 under article "Illegal transportation of persons through the state border of Ukraine". Article provides imprisonment for the term from three till seven years.
Comments
comments