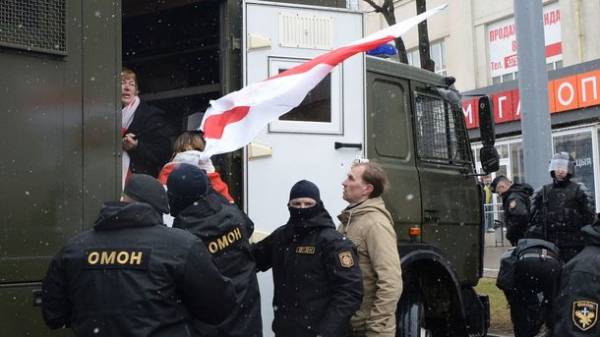 In Minsk during the protest actions were detained three citizens of Ukraine, two of them the court decided to deport to their homeland, and another was arrested for 15 days.
About this informed the official representative of the Department of consular service of the MFA of Ukraine Vasily Kirilich.
"During the protests in Minsk detained three citizens of Ukraine. One of them brought to administrative responsibility, arrested for 15 days. Qualified petty hooliganism and disobedience to lawful order or request of an official of the public authority in the performance of official duties", – the diplomat said.
As reported, on March 25 in Minsk, the opposition tried to hold a rally on freedom Day, but pre-announced to the gathering place near the National Academy of Sciences were able to get mostly journalists. Potential participants were stopped by police cordons.
After that, thousands of activists began to move toward the center of Minsk from another place, but was soon stopped by the police, there was a mass detention of protesters.
The European Union and United States condemned the detention of the protesters in Minsk. In the previous days in different cities of Belarus were arrested about 300 people on both administrative and criminal cases.
Comments
comments