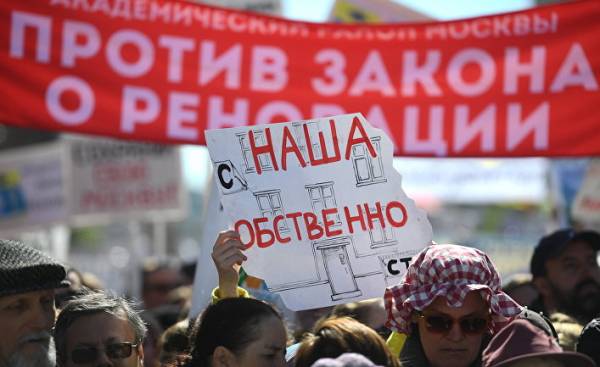 Moscow — in 2012, When Vladimir Putin ran for presidential elections, he wrote that the Russian "middle class needs to grow." Brown, Guggenberger is a representative of that middle class, which Putin said. Being an IT Manager, she fits his definition of "people with incomes that allow a fairly wide range to choose — to spend or to save, what to buy and how to relax and they can choose a job that they like."
And they can also choose where to live.
Guggenberger adopted the agreement that Putin had secretly proposed a middle class in Russia: she worked hard, bought an apartment, saved money, spent it and did not intervene in politics, as the Kremlin strengthened its control over all levels of government. Guggenberger was willing to put up with this, but the government decided to encroach on her home.
Guggenberger, has become one of the 1.6 million residents who have been affected by urban renovation programme of the five-story building, built in the Soviet era. Under the program, these five-story building must be demolished and their inhabitants to resettle in a modern high-rise building. Moscow authorities claim that the old building is already beyond repair and that this massive relocation would substantially improve the situation with accommodation in Moscow.
However, thousands of Muscovites, such as Huggenberger, this plan seems a violation of their right to own property and the right to choose where they live. Now, where city hall, municipal and Federal legislative bodies and courts are in the hands of people loyal to Putin, opponents feel that they not in forces to stop the demolition of their homes.
So they decided to violate their part of the agreement.
They organized street protests, which were attended by several thousand people. They used social media to organize campaign in defense of their homes and inundated lawmakers with letters. They held hands and began to cry "Shame!" outside the State Duma, after the deputies approved the draft law on the renovation of the second reading. Many opponents of this program are planning to participate in a nationwide protest, which will be held on Monday, June 12, and the organization of which is Alexei Navalny.
"I've always been far from politics, but they forced me to join the opposition," said 35-year-old Guggenberger in a recent interview. Working as an IT Manager, she was saving money, which in 2010 she bought an apartment in a residential area North of Moscow city centre. This apartment became her first private housing.
"They've done something stupid, she said. — They forgot about us, about the middle class. They forgot about us because we was doing with his life. We don't vote, we don't throw strikes, we just live our own life. We were invisible. And they forgot about us".
Protest action of owners of apartments in the five-story building became the next episode of unrest that has become the most severe since the anti-government protests in 2012. In the last few months on a nationwide demonstration against government corruption left tens of thousands of people, almost daily rallies of truckers protest, Navalny managed to create a small but growing base of support to improve their chances in the presidential election.
These disturbances are unlikely to hurt Putin, whose approval rating does not fall below 80% for three years, to win the presidential elections in March next year, said Denis Volkov, an analyst with the independent analytical "Levada-center". However, they point to the Achilles heel of the system that Putin has built.
According to Volkov, the Russians see as a "lack of transparency". "All the tools that ensure this transparency and accountability to society — courts, elections, representative government, public hearing, or are a sham or have already been subject to".
According to Volkov, as a result, the Russians "are confident that they will be deceived".
Meanwhile, Putin's reputation remains unblemished, because he had warned the Russians that their country has again become a great power. From the point of view of many Russians, Putin is the only politician you can trust. This attitude and the attitude reflected in the annual "direct line", in which citizens can Express their complaints directly to the leader of the Kremlin.
This year direct line with President of Russia is scheduled for Thursday, June 15. However, Kremlin spokesman Dmitry Peskov in may, told reporters that Putin, who approved a program of renovation in February, will not intervene in the conflict between the Moscow mayor Sergei Sobyanin and angry owners of apartments in the five-story building.
The city authorities have published plans, which focus on the benefits of the new buildings on the old houses subject to demolition. In an interview with the news Agency TASS Sobyanin said that 90% of residents support this plan.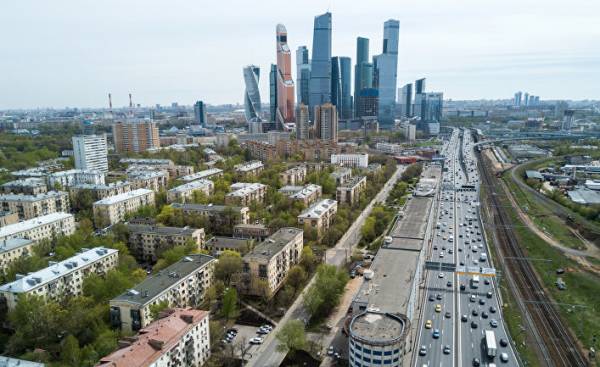 © RIA Novosti Maxim Blinov | go to photobacteria houses in the area the Stones in Moscow, included in the program of renovation
Opponents of this program argue that supporters of the renovation is much less. They believe that the authorities are not going to tell people the truth. Under the bill, the city authorities will decide where to resettle the owners of apartments in houses demolished, and while they promise to provide every owner a new apartment of the same size. Those owners who have invested money in renovation of their flats, will not be eligible for any compensation.
On Friday, June 9, deputies have made to this law amendment, allowing residents to receive cash compensation instead of new apartments, but opponents say the officials are not interested in holding a fair valuation of their property. The state Duma also made in the text of the law the requirement to provide people with new apartments in the same area where their old houses, but opponents argue that with the renovation plan the authorities want to move people from the Central districts of Moscow closer to its outskirts. Lawmakers say that the implementation of this program, which will take approximately 15-20 years, will start with those homes that are in the worst condition.
Before the vote, Duma speaker and former Putin aide Vyacheslav Volodin noted that the amendments should "eliminate friction".
But opponents of the law are not going to calm down.
"If they gave me enough money so I can buy the same apartment with the same repair, which I did, and in the same district, I would support this program, said Guggenberger. But they just take from me my property, which I had worked for. How many more will I have to work to earn on an apartment that I like and where I'd want to live?"
Even those who generally supported the renovation programme, is concerned that new housing may be of lower quality, as Helen said Shuvalov, one of several members of the Moscow city Duma, spoke against the resettlement plan. A five-story building, included in the list of buildings to be demolished are of brick, and Muscovites believe their housing is of higher quality compared to the high-rise block buildings, which are planned to replace them.
"People need green spaces, trees, not everyone wants to move to a high floor. People ask why they want to move from brick house to concrete block houses," explained Shuvalov.
Meanwhile, the city government organized the vote, asking residents whether they want to have their house demolished. This vote ends Thursday, June 15, that is, the next day after the Duma should finally approve the bill on the renovation.
"The impression that they have already decided everything and that our opinion is simply not taken into account, — said Irina Spiridonova, one of those 5 thousands of Muscovites who came out to protest against the renovation of 28 may. — I was never interested in politics. I participate in this only because politics has affected my house."
Some protesters were dressed in prison uniform, others carried placards on which was written "Renovation = deportation" and "This is Moscow, not Mordor" — many Muscovites new highrises seem to be something ugly and monstrous.
"We know why the city authorities of our land,' said one participant of the protest, which was called Tatiana. They need developers."
Sobyanin, who intends to be re-elected to the post of mayor of Moscow in September 2018, said in an interview with TASS that he knows that some Muscovites think that "we deceive people and we will not fulfil our promises." He stressed that authorities of the capital necessary to perform entirely its promise. Some reports said that the mayor was genuinely surprised by the reaction of Muscovites to the initiative, which, in his opinion, was to meet with joy.
According to some observers, Putin's reluctance to intervene in this situation due to the actions of the "construction lobby" — that is, developers and suppliers, who have suffered huge losses due to the recession in the country. As stated in a new report by Transparency International, the renovation project has become for them a real gift.
In a recent interview, Gennady Gudkov, a former KGB Colonel, now Russian Pro-democracy politician, went further, saying that the main goal of this project is to further enrich influential businessmen, who are among Putin's confidants.
"This law is formulated in such a way that they could take property without the courts, he said. — And then half of the money allocated from the Federal budget will be spent on kickbacks."
According to him, Putin does not intervene, "because he has created such a system."
Comments
comments