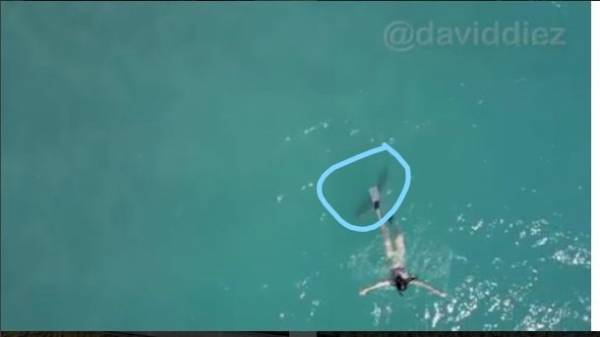 Florida resident David Diez took the attempted shark attack on a girl who was diving.
Your video with the help of a quadcopter, he published in Instagram.
The video shows the girl swimming in the sea with mask and fins, but suddenly is approaching shark. Lightning fast she almost touches lastow, but at the last moment floats away.
The girl did not react to the shark, most likely due to the fact that he couldn't see her.
At the same time, the diplomat appreciated the length of the shark is 1.2-1.5 meters. According to him, the bite could be quite serious. Not fatal, but no good.
David wrote that most likely, the shark took the fins for the fish, but changed her mind when she realized the error.
"This is the most shark attacks in Florida. Especially at this time of the year when blacktip sharks migrate along the coast with schools of fish," explains the author of the video.
So this happened yesterday! While filming my girlfriend @helenpalacios with my drone a shark came close to tasting her. What I think happened was that the shark confused her fins for a fish, but then as soon as it realized it was a human it quickly backed off. The poor water visibility confused the shark. This is how most shark attacks happen in Florida specially this time of year when sharks like the blacktip are migrating through the Florida coast following schools of fish. Sharks aren't man eaters, they're just carnivores who make mistakes like we do. Helen and I will continue to explore our beautiful ocean. @pureflorida #shark #encounter #florida #wildlife #adventure @floridasaltlife
Comments
comments