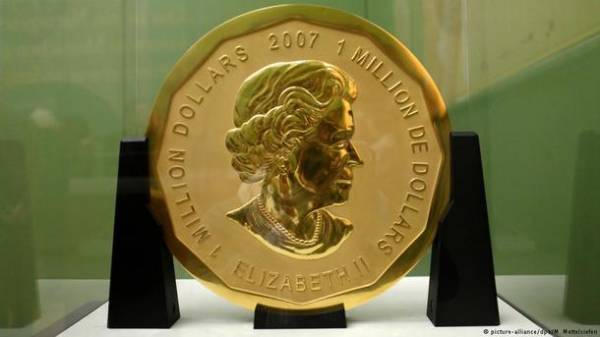 Even in the most protected museums in the world there is a resonant theft. The police of the capital of Germany has announced via Twitter that on Monday night about 3:30 from the Bode Museum in Berlin had been stolen a gold coin with a nominal value of $1 million.
Stolen coin called "Big maple leaf" weighs about 100 kilograms and is made of pure gold. The cost of material for its production and the work itself was approximately $3.7 million.
According to police, the coin's diameter — 53 cm, thickness — 3 cm, the obverse features the profile of Queen Elizabeth II. The Bode Museum, which is known for its collection of coins, borrowed the exhibit from another Museum at the time of the exhibition.
The police believes that the criminals were several, and the theft had long been planned. In the building they got in through the window with the ladder. She was found near the scene of the burglary. It is not known how the thieves managed to disable the alarm and take a heavy object, which would be completely impossible to sell in any market.
Comments
comments