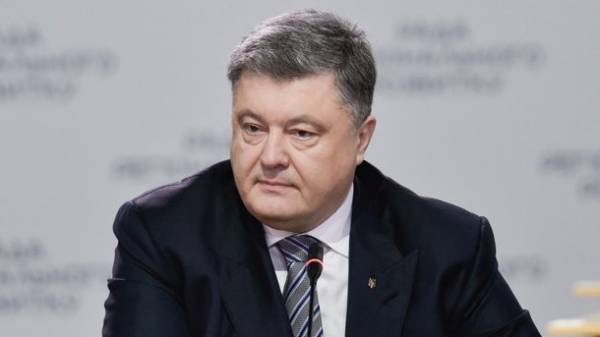 Ukrainian President Petro Poroshenko regrets that Ukrainian politicians are responsible for the deaths of servicemen of National guard of Ukraine during the protest action near the building of Verkhovna Rada of Ukraine on 31 August 2015, still have not been punished.
"It is regrettable, but I must remind you, because the words of the song will not throw out that 4 soldiers machardie died 31 August 2015 at the front, where the enemy is obvious and clear, – was killed under walls of the Verkhovna Rada of Ukraine on Constitution square, where they were killed with grenades fooled by politicians the people who call themselves patriots," said the President during a visit to the site of the national guard in Novi Petrivtsi on Monday.
According to him, the trial of the perpetrators is already underway. "As for the politicians, unfortunately, they feel quite comfortable, flicker on television and sing in the choir "early elections", – said the President.
As you know, 31 August 2015 at the Verkhovna Rada of clashes between security forces and protesters who demanded not to make changes to the Constitution.
After the parliamentary vote, protesters went to storm the Parliament and started throwing smoke bombs. Then someone threw in the ranks of the police and national guard grenade.
Wounding more than 130 people. Four security officials died from her injuries.
The detained 21-year-old Igor Gumenyuk, who, according to the interior Minister, threw a grenade, – the fighter of a voluntary battalion of special purpose "Sich" (composed of members of the "IN "Freedom").
Interior Minister Arsen Avakov accused the leader of the party "Freedom" Oleg Tyagnibok and his party in the tragedy in Parliament.
Tyagnibok and "Svoboda", in turn, denied his guilt and accused the leadership of the interior Ministry and the authorities in General provocation.
Comments
comments