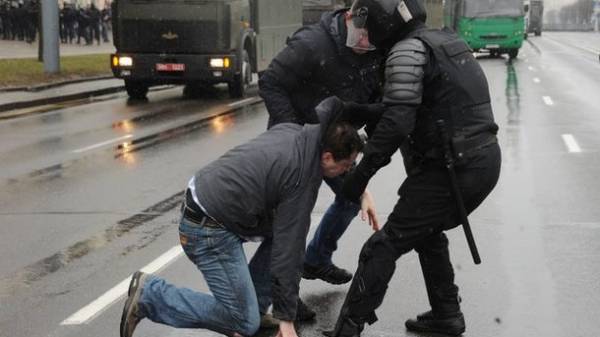 At least 25 journalists were arrested on Saturday in Belarus during opposition rallies, timed to the "Day of freedom", most of them have already been released, reports the Belarusian Association of journalists (BAJ).
"As of 18.30 on March 25 it is known that detained at least 25 people. 20 released," – said in a statement posted on the official website of the BAJ.
The bulk of the detentions of journalists came to Minsk.
According to BAJ, are still detained Denis Ivashin (site InformNapalm), Alyaksandr Barazenka (Belsat), Dmitri Korenko (independent journalist), Nikita Yarosh ("Gantsevichi hour"), Anton Karliner (photographer from Russia).
"Colleagues can't find a British journalist Philip Warwick. No information about the arrest or about where he was and what he not," – noted in the Association.
In addition, in Vitebsk remains detained Artem Sizintsev ("Radio Radio").
Remain detained Elena Bychkova, Ivan Trivanovich and Larissa Shirakawa. According to BAJ, they were detained in Gomel.
As reported, on Saturday in Minsk, Gomel, Vitebsk, Grodno and Brest were the opposition rally, timed to the celebration of "freedom Day". Only in Grodno and Brest actions were sanctioned by the authorities.
The action in Minsk ended with the arrests. According to recent reports, police have detained more than 700 people, some given for 12 days.
Comments
comments