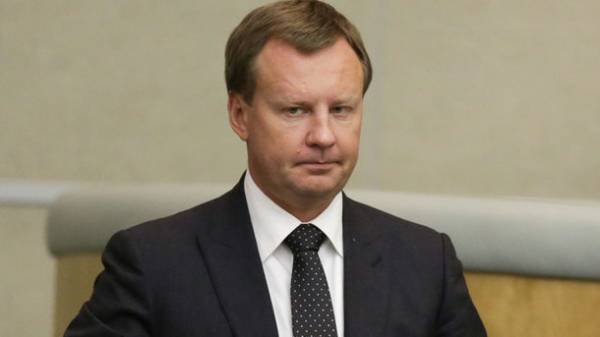 Killed ex-Deputy of the State Duma Denis Voronenkov had information about the interaction of "Berkut" and other Ukrainian security forces with the Russian army special forces during the Maidan, said on the air "Еспресо.TV" former state Duma Deputy Ilya Ponomarev.
"Denis had information about special forces – he had different friends – he talked about their interaction with the "Berkut", Ukrainian special forces during the Maidan. And that likely resulted in the shooting," he said.
Ponomarev added that specific details are not known himself such information is not fluent. He suggested that Voronenkov has managed to share this information with the investigators of the Chief military Prosecutor's office.
As reported today, Boronenkov buried in Kiev on Zverinetska cemetery.
We will remind, in Kiev in the shooting death of a former member of the Russian state Duma Denis Voronenkov, who took Ukrainian citizenship and testified against fugitive President Viktor Yanukovych.
It is known that the killer Boronenkov was arrested as a result of injuries after a shooting. However, several hours later he died in hospital from his injuries. First, it turned out that he was a citizen of Ukraine, and then in the media, information surfaced that his name is Paul Parsow. The interior Ministry and the SBU confirmed that the assailant is a native of Sevastopol Paul Parsow. According to the Unified register of judicial decisions, the man declared wanted in 2011 for a fictitious entrepreneurship and fraud.
The people's Deputy Anton Gerashchenko said that Parsow in early 2015 on foot crossed the Ukrainian border with Belarus, and from there went to Russia, where she studied at the school of saboteurs. According to Gerashchenko, after preparation Parsow was abandoned in the Ukraine, where he joined the National guard.
Comments
comments